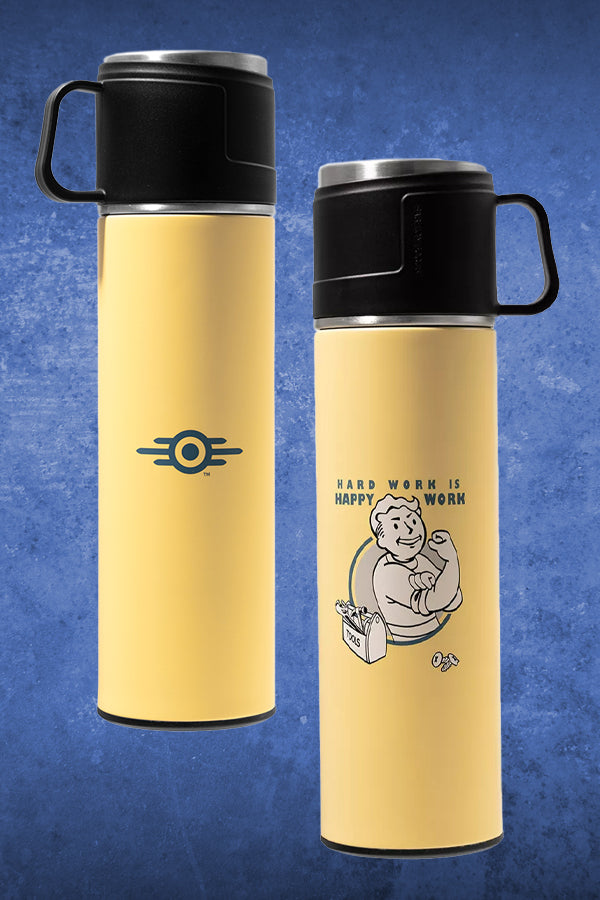 Rebuilding the entire civilization? Not without a big can of hot coffee!
A situation we all are familiar with: A long working day in the Vault workshop claims your last bit of energy or the construction of a new settlement was once again scheduled way too early in the morning... Without the magic potion of modern times, this will probably be impossible. Coffee belongs in every household, whether chem-abstinent or not, so get this thermos bottle and never stay dry anymore.
With this stylish-yellow thermos bottle in the well-known Vault-Tec design, you are prepared for any hard times and always have a hot, strong coffee or tea at your side. Thanks to perfect insulation, cold drinks stay cold and hot drinks stay hot, whether you're in a crater zone, or stuck in a nuclear winter.
No cup at hand? Not a problem at all, thanks to the black lid with a handle you will have a complete coffee-2-go set, except for the coffee of course. The printed slogan "Hard Word Is Happy Work" together with the popular mascot Vault-Boy is matching your persistent task to bring the wasteland to a new (less radiated) glow.
Features:
Vacuum insulated bottle
Integrated cup
Dimensions: 23,5 cm x 6,5 cm (9.25 x 2.6 Inches)
Weight: 390 grams (13.75 oz)
Material: Stainless steel, polypropylene, silicone
Made in: China
Shipping costs
| Zone | below 400 grams | 401-800 grams | 801-2000 grams | 2001 - 4000 grams | 4001 - 6000 grams | 6001 - 8000 grams | 8001 - 10,000 grams | 10,001 - 15,000 grams | 15,001 - 23,000 grams | 23,001+ grams |
| --- | --- | --- | --- | --- | --- | --- | --- | --- | --- | --- |
| 1 | 6,65 | 7,90 | 7,90 | 8,90 | 10,90 | 10,90 | 13,17 | 14,40 | 15,90 | 15,90 |
| 2 | 8,19 | 9,98 | 12,11 | 12,89 | 13,65 | 14,37 | 15,09 | 16,98 | 24,30 | 27,65 |
| 3 | 8,63 | 11,07 | 16,05 | 17,17 | 18,26 | 19,29 | 20,31 | 23,04 | 38,81 | 44,43 |
| 4 | 19,87 | 22,12 | 27,18 | 37,28 | 49,65 | 60,03 | 70,41 | 95,82 | 153,54 | 212,32 |
| 5 | 24,93 | 27,20 | 32,30 | 42,50 | 55,41 | 66,19 | 76,97 | 103,36 | 159,70 | 210,60 |
| 6 | 18,66 | 20,28 | 23,93 | 31,22 | 40,44 | 48,14 | 55,84 | 74,69 | 114,91 | 151,28 |
All rates shown in Euros. Zone 1: Austria, Germany Zone 2: Belgium, Croatia, Czechia, Denmark, Spain, Estonia, Finland, France, United Kingdom, Greece, Hungary, Italy, Iceland, Ireland, Luxembourg, Netherlands, Poland, Portugal, Romania, Sweden, Slovakia Zone 3: Switzerland, Jersey, Norway Zone 4: Canada, USA, USA FPO / APO Zone 5: Australia, New Zealand Zone 6: Japan