Read Before Purchase
Limited to one item per customer
This item is limited to one purchase per customer. Review the full details in our General Policies page.
Skip to product information
Starfield is the first new universe in over 25 years from Bethesda Game Studios, the award-winning creators of The Elder Scrolls V: Skyrim and Fallout 4. In this next generation role-playing game set amongst the stars, create any character you want and explore with unparalleled freedom as you embark on an epic journey to answer humanity's greatest mystery.
***
CONSTELLATION EDITION 
Pre-order now and receive "Old Mars Skin Pack" in-game bonus items: 
- Laser Cutter 
- Deep Mining Helmet 
- Deep Mining Pack
Purchase this physical edition to receive the following: 
- Starfield Base Game 
- Shattered Space Story Expansion (upon release) 
- Up to 5 days early access* 
- Constellation Skin Pack: Equinox Laser Rifle, Spacesuit, Helmet and Boost Pack 
- Access to Starfield Digital Artbook & Original Soundtrack 
- Steelbook Display Case  
- Constellation Patch 
- Starfield Chronomark Watch and Case 
- Credit Stick with Laser-Etched Game Code
* Actual play time depends on purchase date and is subject to possible outages and applicable time zone differences. Orders placed after 17.08.23 may not receive in time for early access period. 
***
In the year 2330, humanity has ventured beyond our solar system, settling new planets, and living as a spacefaring people. You will join Constellation – the last group of space explorers seeking rare artifacts throughout the galaxy – and navigate the vast expanse of space in Bethesda Game Studios' biggest and most ambitious game.
TELL YOUR STORY 
In Starfield the most important story is the one you tell with your character. Start your journey by customizing your appearance and deciding your Background and Traits. Will you be an experienced explorer, a charming diplomat, a stealthy cyber runner, or something else entirely? The choice is yours. Decide who you will be and what you will become.
EXPLORE OUTER SPACE
Venture through the stars and explore more than 1000 planets. Navigate bustling cities, explore dangerous bases, and traverse wild landscapes. Meet and recruit a memorable cast of characters, join in the adventures of various factions, and embark on quests across the Settled Systems. A new story or experience is always waiting to be discovered.  
CAPTAIN THE SHIP OF YOUR DREAMS 
Pilot and command the ship of your dreams. Personalize the look of your ship, modify critical systems including weapons and shields, and assign crew members to provide unique bonuses. In deep space you will engage in high-stakes dogfights, encounter random missions, dock at star stations, and even board and commandeer enemy ships to add to your collection.  
DISCOVER, COLLECT, BUILD
Explore planets and discover the fauna, flora, and resources needed to craft everything from medicine and food to equipment and weapons. Build outposts and hire a crew to passively extract materials and establish cargo links to transfer resources between them. Invest these raw materials into research projects to unlock unique crafting recipes.
LOCK AND LOAD
Space can be a dangerous place. A refined combat system gives you the tools to deal with any situation. Whether you prefer long-range rifles, laser weapons, or demolitions, each weapon type can be modified to complement your playstyle. Zero G environments add a chaotic spectacle to combat, while boost packs give players freedom to maneuver like never before."

THIS ITEM IS ONLY AVAILABLE TO SHIP WITHIN THE EUROPEAN UNION AND UNITED KINGDOM.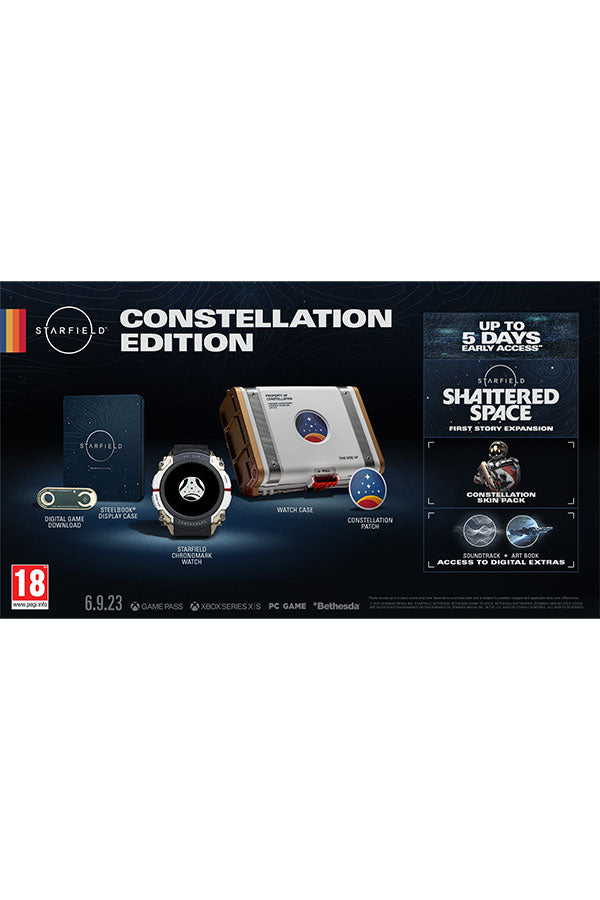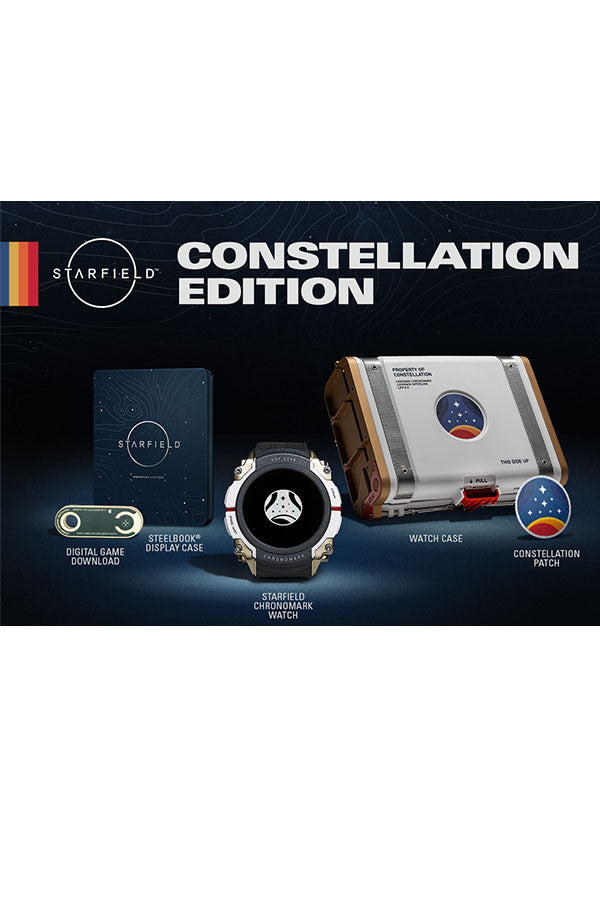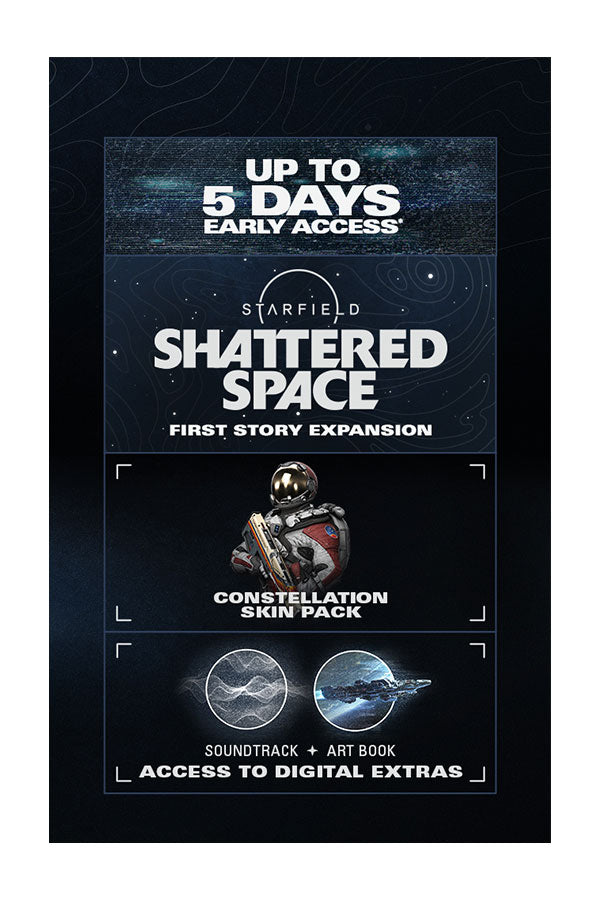 Shipping costs
| Zone | below 400 grams | 401-800 grams | 801-2000 grams | 2001 - 4000 grams | 4001 - 6000 grams | 6001 - 8000 grams | 8001 - 10,000 grams | 10,001 - 15,000 grams | 15,001 - 23,000 grams | 23,001+ grams |
| --- | --- | --- | --- | --- | --- | --- | --- | --- | --- | --- |
| 1 | 6,65 | 7,90 | 7,90 | 8,90 | 10,90 | 10,90 | 13,17 | 14,40 | 15,90 | 15,90 |
| 2 | 8,19 | 9,98 | 12,11 | 12,89 | 13,65 | 14,37 | 15,09 | 16,98 | 24,30 | 27,65 |
| 3 | 8,63 | 11,07 | 16,05 | 17,17 | 18,26 | 19,29 | 20,31 | 23,04 | 38,81 | 44,43 |
| 4 | 19,87 | 22,12 | 27,18 | 37,28 | 49,65 | 60,03 | 70,41 | 95,82 | 153,54 | 212,32 |
| 5 | 24,93 | 27,20 | 32,30 | 42,50 | 55,41 | 66,19 | 76,97 | 103,36 | 159,70 | 210,60 |
| 6 | 18,66 | 20,28 | 23,93 | 31,22 | 40,44 | 48,14 | 55,84 | 74,69 | 114,91 | 151,28 |
All rates shown in Euros. Zone 1: Austria, Germany Zone 2: Belgium, Croatia, Czechia, Denmark, Spain, Estonia, Finland, France, United Kingdom, Greece, Hungary, Italy, Iceland, Ireland, Luxembourg, Netherlands, Poland, Portugal, Romania, Sweden, Slovakia Zone 3: Switzerland, Jersey, Norway Zone 4: Canada, USA, USA FPO / APO Zone 5: Australia, New Zealand Zone 6: Japan