Skip to product information
You are not alone anymore!
Appalachia is thriving, cheers to the overseer!
Have you already spent some time rebuilding civilization as far as possible? Since Fallout 76 opened its gates with the Wastelanders update, all sorts of survivalists, optimists, but also looters and bandits have been roaming around the destroyed West Virginia.
To keep perfect control over the hustle and bustle, we now offer you the perfect accessory for your adventures in Fallout 76. With this extra-large mouse pad, you'll always have the upper hand, because pinpoint precision and enormous freedom of movement guarantee a much more comfortable game flow. Thanks to the cutting-edge processing, you can enjoy the razor-sharp print, which will take you straight to the post-apocalypse thanks to rich colors and significant details.
Of course, there's room for more than just your computer mouse on the mousepad, because your keyboard has to tag along, too.
Material: High-quality fabric with non-slip grip rubber base
Print: Fallout 76 - Wastelanders Coverart
Size: 80 x 36 x 0,4 cm
Weight: 760 grams
Officially licensed by Bethesda
Made by Gaya Entertainment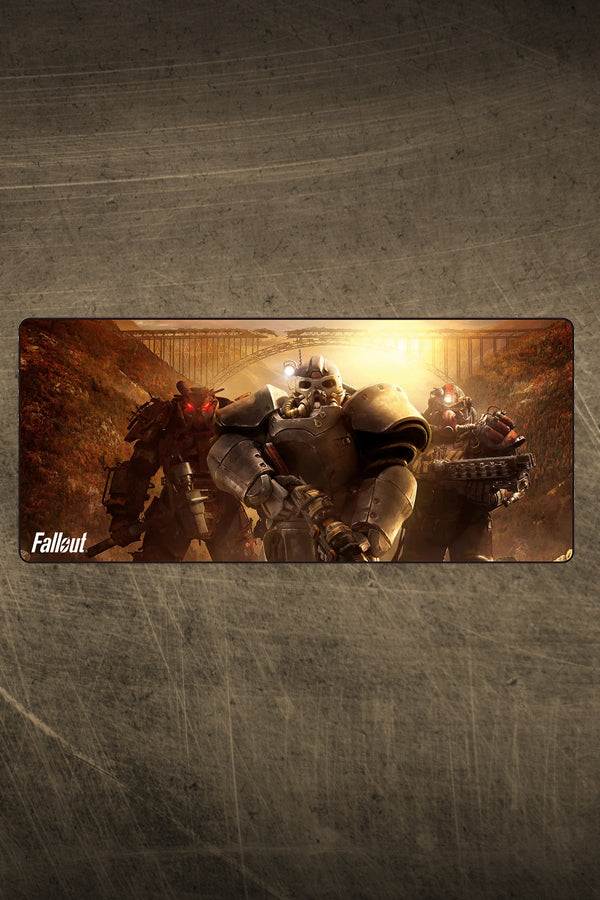 Shipping costs
| Zone | below 400 grams | 401-800 grams | 801-2000 grams | 2001 - 4000 grams | 4001 - 6000 grams | 6001 - 8000 grams | 8001 - 10,000 grams | 10,001 - 15,000 grams | 15,001 - 23,000 grams | 23,001+ grams |
| --- | --- | --- | --- | --- | --- | --- | --- | --- | --- | --- |
| 1 | 6,65 | 7,90 | 7,90 | 8,90 | 10,90 | 10,90 | 13,17 | 14,40 | 15,90 | 15,90 |
| 2 | 8,19 | 9,98 | 12,11 | 12,89 | 13,65 | 14,37 | 15,09 | 16,98 | 24,30 | 27,65 |
| 3 | 8,63 | 11,07 | 16,05 | 17,17 | 18,26 | 19,29 | 20,31 | 23,04 | 38,81 | 44,43 |
| 4 | 19,87 | 22,12 | 27,18 | 37,28 | 49,65 | 60,03 | 70,41 | 95,82 | 153,54 | 212,32 |
| 5 | 24,93 | 27,20 | 32,30 | 42,50 | 55,41 | 66,19 | 76,97 | 103,36 | 159,70 | 210,60 |
| 6 | 18,66 | 20,28 | 23,93 | 31,22 | 40,44 | 48,14 | 55,84 | 74,69 | 114,91 | 151,28 |
All rates shown in Euros. Zone 1: Austria, Germany Zone 2: Belgium, Croatia, Czechia, Denmark, Spain, Estonia, Finland, France, United Kingdom, Greece, Hungary, Italy, Iceland, Ireland, Luxembourg, Netherlands, Poland, Portugal, Romania, Sweden, Slovakia Zone 3: Switzerland, Jersey, Norway Zone 4: Canada, USA, USA FPO / APO Zone 5: Australia, New Zealand Zone 6: Japan