Skip to product information
Bring the comfort of home anywhere you go.
Hello there, vault dweller! When leaving your vault, you may find yourself in an assortment of uncomfortable situations. Between the weather and the Wasteland creatures, there's enough out there to make you shiver. But if you bring your Fallout® Vault-Tec General Issue Survival Blanket, you can always surround yourself with warmth and comfort, even in the face of cold winds and mutated monsters.
This travel blanket is ideal for those who wish to stay cozy outside and in transit. Its Vault-Tec branded carrier strap lets you carry it around or toss it in your vehicle. You can even turn it into a pillow by folding or rolling it up.
This item is brought to you by the Vault-Tec Accoutrement Department. It is part of the Vault-Tec General Issue Survival Aid Collection, a range of creature comforts especially made for Vault Dwellers.
FEATURES
Travel blanket
Grey blanket
Yellow piping
Rounded Corners
Custom quilted pattern feat. the Vault-Tec logo
Vault-Tec Accoutrement Department Patch
Ideal for Travel
Rolls neatly into a manageable size
Includes a black carrier strap with an embroidered yellow Vault-Tec logo
Doubles as a pillow when folded or rolled
Materials
Blanket: 120 gsm 100% polyester ripstock, 80 gsm polyfill, 250 gsm microfleece
Strap: Polypropylene fibre
Blanket Measurements
140 cm x 200 cm (55 x 78.75 in)
1158 g (51.4 ounces)
Adjustable Strap Measurements
94 g (3.3 ounces)
Width: 3.5 cm (1 ⅜ in)
Shortest Length: 81.3 cm (32 in)
Longest Length: 152.4 cm (60 in)
Product colour may vary from the images shown due to monitor display variance.

CARE INSTRUCTIONS

Machine wash cold
Wash with similar colours
Do NOT bleach
Tumble dry on low temperature
Iron on the lowest setting
Do not dry clean
Related Links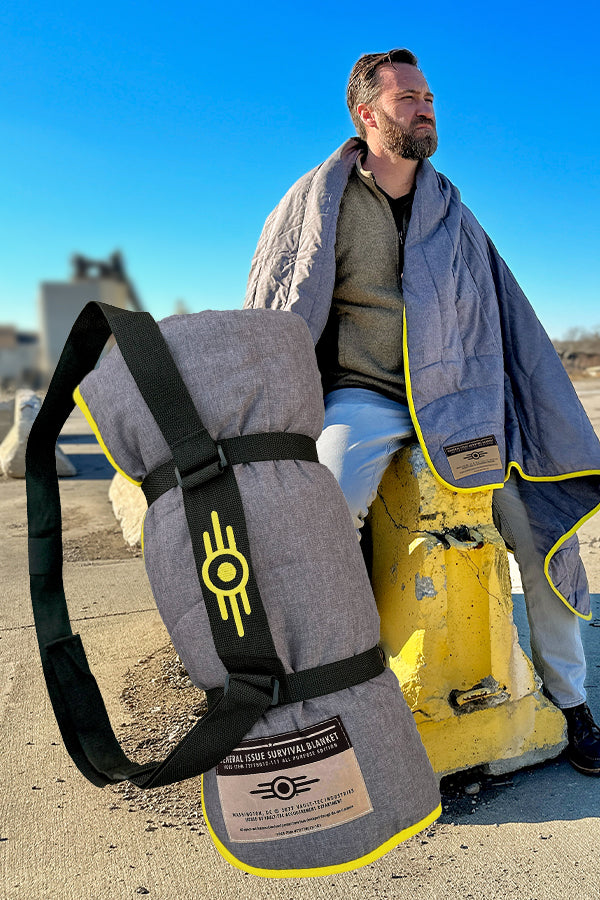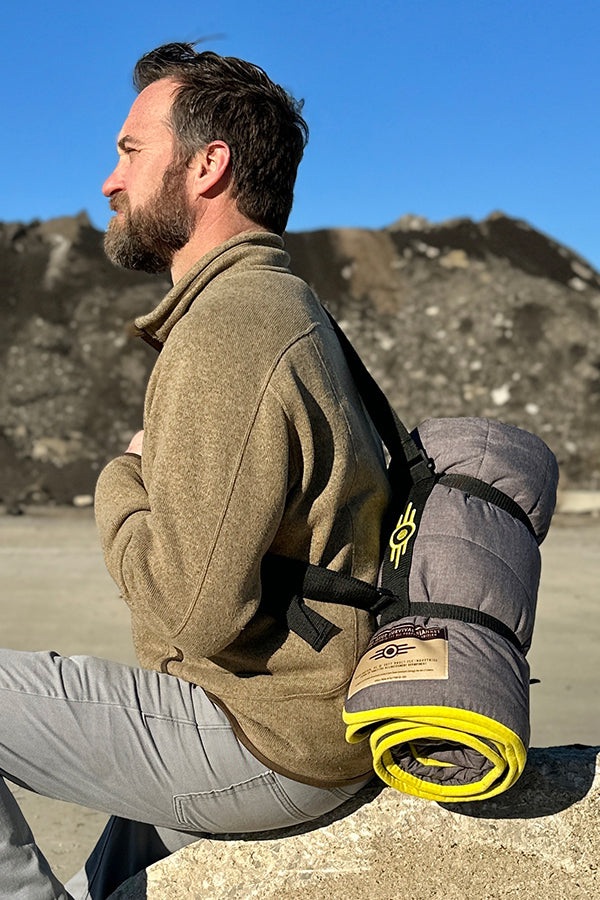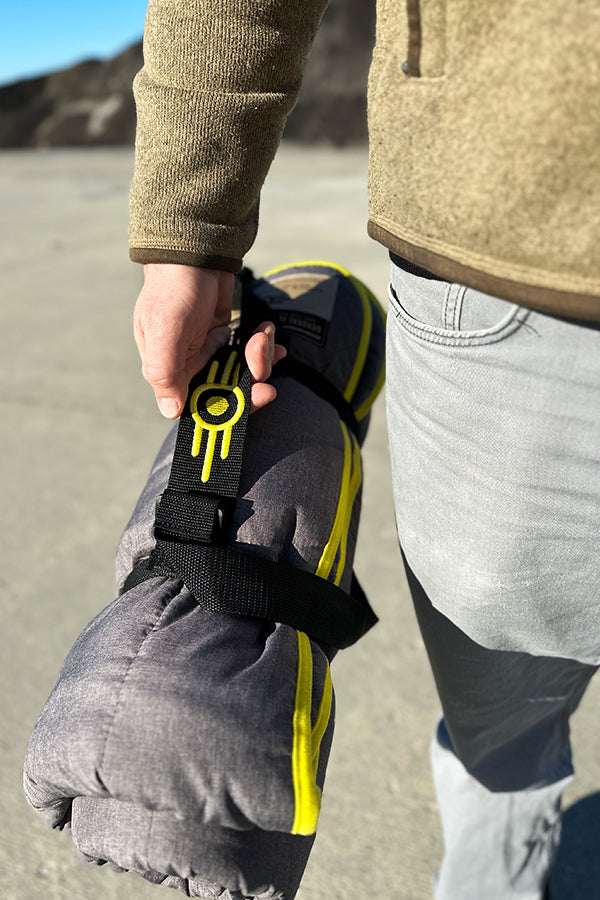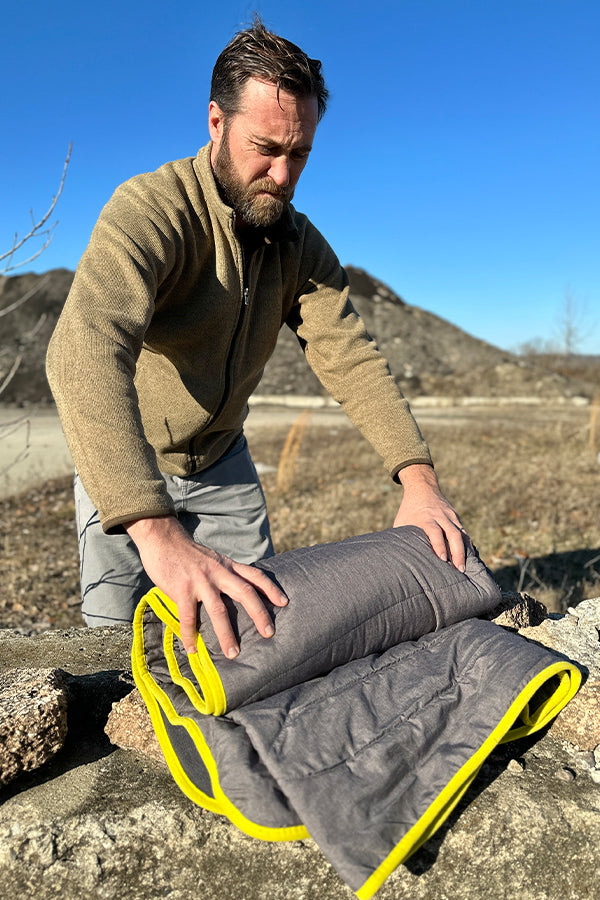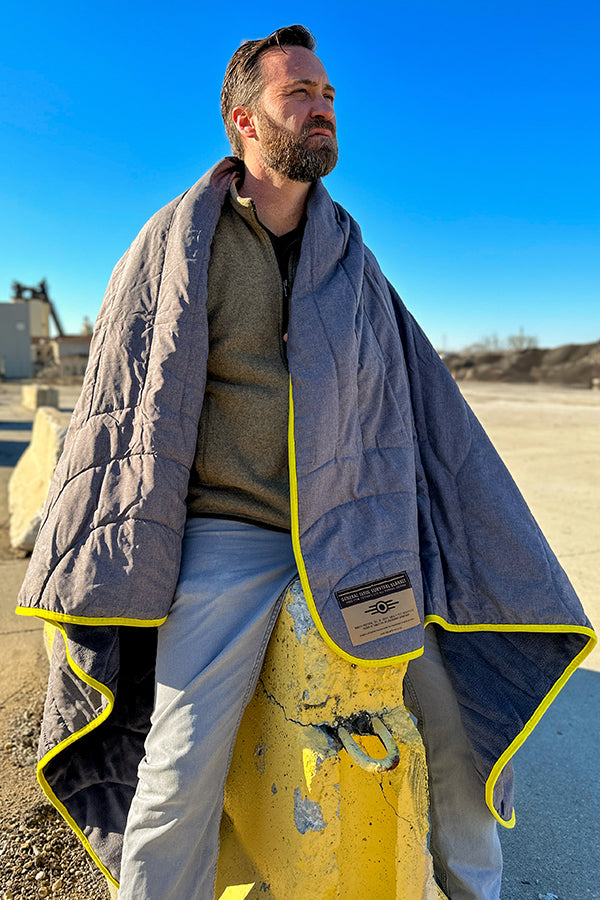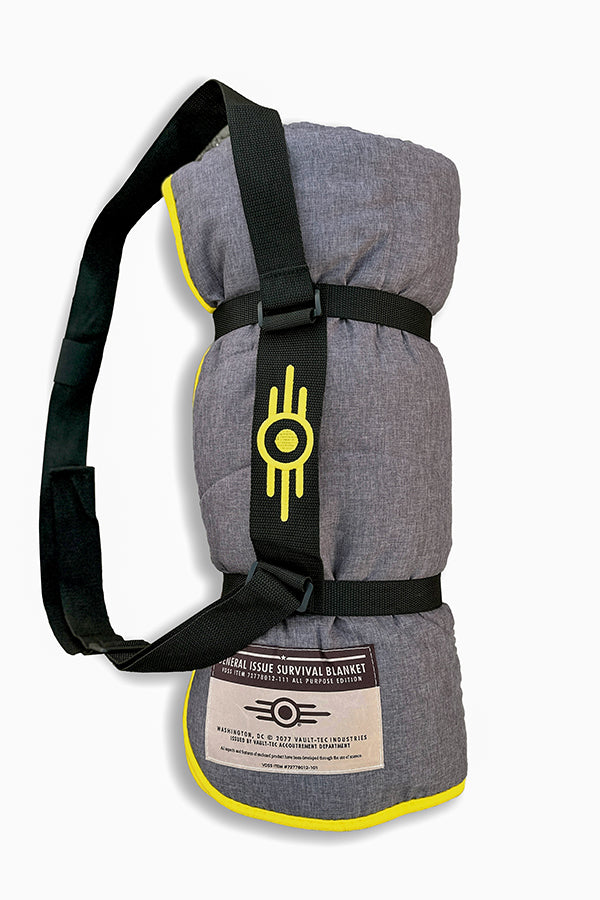 Shipping costs
| Zone | below 400 grams | 401-800 grams | 801-2000 grams | 2001 - 4000 grams | 4001 - 6000 grams | 6001 - 8000 grams | 8001 - 10,000 grams | 10,001 - 15,000 grams | 15,001 - 23,000 grams | 23,001+ grams |
| --- | --- | --- | --- | --- | --- | --- | --- | --- | --- | --- |
| 1 | 6,65 | 7,90 | 7,90 | 8,90 | 10,90 | 10,90 | 13,17 | 14,40 | 15,90 | 15,90 |
| 2 | 8,19 | 9,98 | 12,11 | 12,89 | 13,65 | 14,37 | 15,09 | 16,98 | 24,30 | 27,65 |
| 3 | 8,63 | 11,07 | 16,05 | 17,17 | 18,26 | 19,29 | 20,31 | 23,04 | 38,81 | 44,43 |
| 4 | 19,87 | 22,12 | 27,18 | 37,28 | 49,65 | 60,03 | 70,41 | 95,82 | 153,54 | 212,32 |
| 5 | 24,93 | 27,20 | 32,30 | 42,50 | 55,41 | 66,19 | 76,97 | 103,36 | 159,70 | 210,60 |
| 6 | 18,66 | 20,28 | 23,93 | 31,22 | 40,44 | 48,14 | 55,84 | 74,69 | 114,91 | 151,28 |
All rates shown in Euros. Zone 1: Austria, Germany Zone 2: Belgium, Croatia, Czechia, Denmark, Spain, Estonia, Finland, France, United Kingdom, Greece, Hungary, Italy, Iceland, Ireland, Luxembourg, Netherlands, Poland, Portugal, Romania, Sweden, Slovakia Zone 3: Switzerland, Jersey, Norway Zone 4: Canada, USA, USA FPO / APO Zone 5: Australia, New Zealand Zone 6: Japan