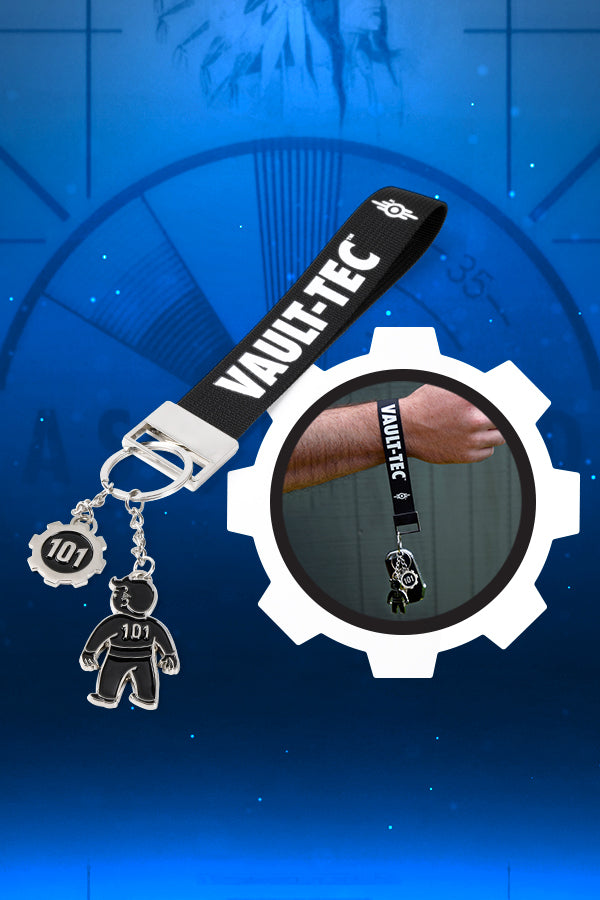 You can take the dweller out of the Vault, but can you really take the Vault out of the dweller? Not when you have the Fallout Vault 101 Keychain, the handy accessory that will let you keep your keys and the memories of the Lone Wanderer's origins close by.
FEATURES
Wristband

Material: Polyester
6 x 1 in (15.3 x 2.5 cm)
Black woven strap with white prints
Vault-Tec logo and wordmark
Metal head

1 x 1.18 x 0.2 in (2.5 x 3 x 0.5 cm)
2 Fallout Charms

Material: Zinc Alloy with Soft Enamel
1x Vault Boy

1.85 x 1.1 x 0.079 in (4.7 x 2.8 x 0.2 cm)
Three quarter view facing away
"101" on his back

1x Vault 101 Symbol

Gear Door design
1 in (2.5 cm) diameter
0.079 in (0.2 cm) thickness
Standard keyring
Weight: 42 grams

Due to differences between monitor displays your product may vary from the images shown.
MORE DETAILS
Fallout Video Game Merch
Fallout Vault 101 Keychain
Shipping costs
| Zone | below 400 grams | 401-800 grams | 801-2000 grams | 2001 - 4000 grams | 4001 - 6000 grams | 6001 - 8000 grams | 8001 - 10,000 grams | 10,001 - 15,000 grams | 15,001 - 23,000 grams | 23,001+ grams |
| --- | --- | --- | --- | --- | --- | --- | --- | --- | --- | --- |
| 1 | 6,65 | 7,90 | 7,90 | 8,90 | 10,90 | 10,90 | 13,17 | 14,40 | 15,90 | 15,90 |
| 2 | 8,19 | 9,98 | 12,11 | 12,89 | 13,65 | 14,37 | 15,09 | 16,98 | 24,30 | 27,65 |
| 3 | 8,63 | 11,07 | 16,05 | 17,17 | 18,26 | 19,29 | 20,31 | 23,04 | 38,81 | 44,43 |
| 4 | 19,87 | 22,12 | 27,18 | 37,28 | 49,65 | 60,03 | 70,41 | 95,82 | 153,54 | 212,32 |
| 5 | 24,93 | 27,20 | 32,30 | 42,50 | 55,41 | 66,19 | 76,97 | 103,36 | 159,70 | 210,60 |
| 6 | 18,66 | 20,28 | 23,93 | 31,22 | 40,44 | 48,14 | 55,84 | 74,69 | 114,91 | 151,28 |
All rates shown in Euros. Zone 1: Austria, Germany Zone 2: Belgium, Croatia, Czechia, Denmark, Spain, Estonia, Finland, France, United Kingdom, Greece, Hungary, Italy, Iceland, Ireland, Luxembourg, Netherlands, Poland, Portugal, Romania, Sweden, Slovakia Zone 3: Switzerland, Jersey, Norway Zone 4: Canada, USA, USA FPO / APO Zone 5: Australia, New Zealand Zone 6: Japan