Skip to product information
When you're a courier fighting radioactive creatures and choosing between warring factions on your way to a delivery, you may want to keep your hands free of parcels and full of other things you could use for survival. Stash your parcels safely away with your Fallout Mojave Express Messenger Bag.
FEATURES
Brown messenger bag
Embroidered Mojave Express patch
Materials

16 oz Canvas
Cotton webbing
Metal clip and buckle
Leather clip straps
Size: 15 x 11 x 4 in (381 x 279.4 x 101 mm)
KEEP YOUR PARCELS SAFE
Inspired by the Courier (the player character of Fallout: New Vegas), this messenger bag features an embroidered logo of the Mojave Express on the front flap.
Made of thick and sturdy canvas, it's reliable and designed to last. Secure your items with its pair of leather straps which you fasten like you would an old-fashioned belt.
Inside, you get plenty of space for big items like books and devices, as well as curious bric-a-brac like playing cards, chess pieces, or a poker chip.
MORE DETAILS
Fallout Video Game Merch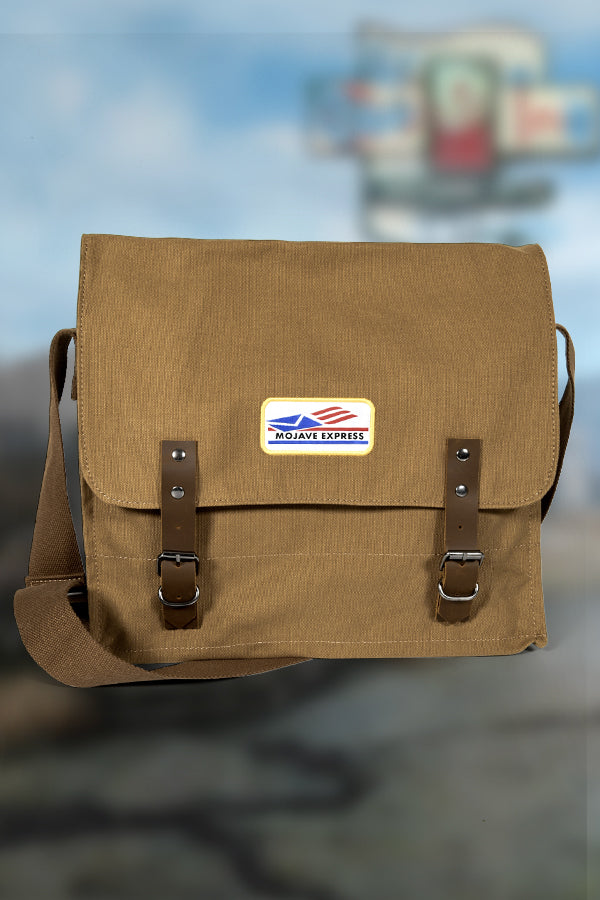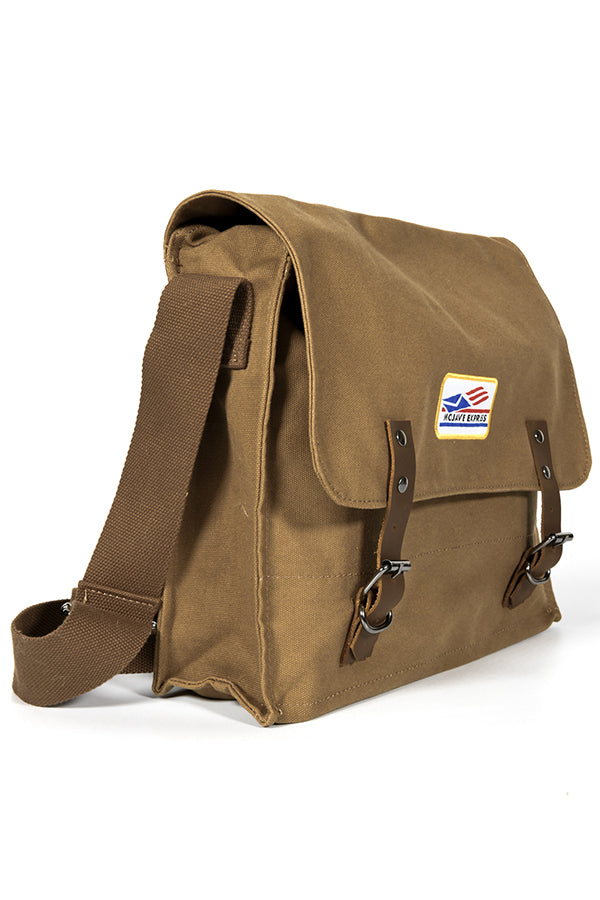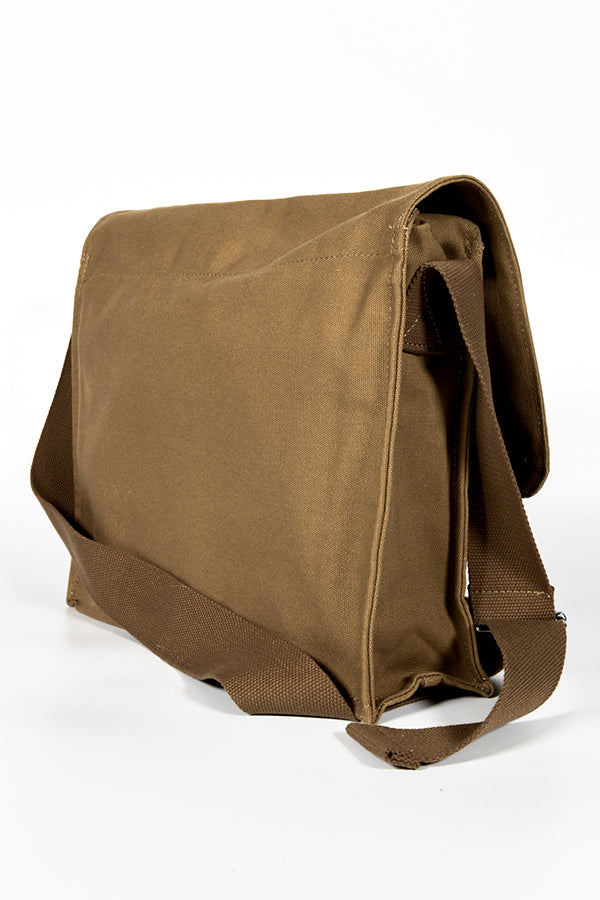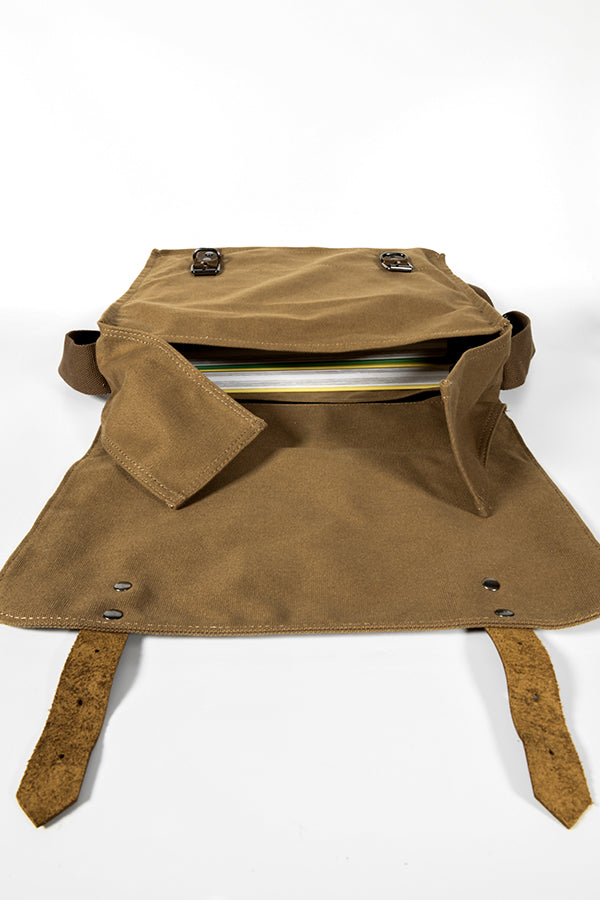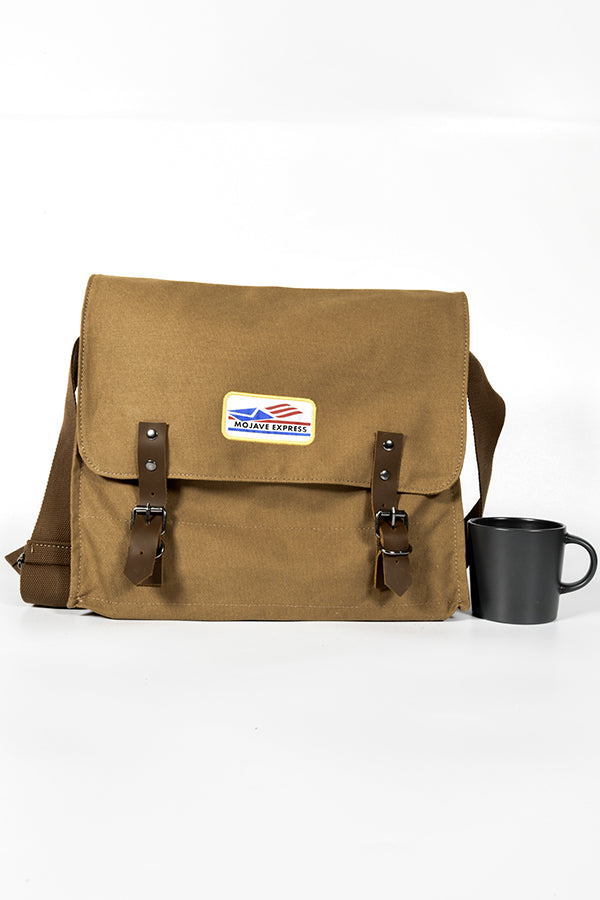 Shipping costs
| Zone | below 400 grams | 401-800 grams | 801-2000 grams | 2001 - 4000 grams | 4001 - 6000 grams | 6001 - 8000 grams | 8001 - 10,000 grams | 10,001 - 15,000 grams | 15,001 - 23,000 grams | 23,001+ grams |
| --- | --- | --- | --- | --- | --- | --- | --- | --- | --- | --- |
| 1 | 6,65 | 7,90 | 7,90 | 8,90 | 10,90 | 10,90 | 13,17 | 14,40 | 15,90 | 15,90 |
| 2 | 8,19 | 9,98 | 12,11 | 12,89 | 13,65 | 14,37 | 15,09 | 16,98 | 24,30 | 27,65 |
| 3 | 8,63 | 11,07 | 16,05 | 17,17 | 18,26 | 19,29 | 20,31 | 23,04 | 38,81 | 44,43 |
| 4 | 19,87 | 22,12 | 27,18 | 37,28 | 49,65 | 60,03 | 70,41 | 95,82 | 153,54 | 212,32 |
| 5 | 24,93 | 27,20 | 32,30 | 42,50 | 55,41 | 66,19 | 76,97 | 103,36 | 159,70 | 210,60 |
| 6 | 18,66 | 20,28 | 23,93 | 31,22 | 40,44 | 48,14 | 55,84 | 74,69 | 114,91 | 151,28 |
All rates shown in Euros. Zone 1: Austria, Germany Zone 2: Belgium, Croatia, Czechia, Denmark, Spain, Estonia, Finland, France, United Kingdom, Greece, Hungary, Italy, Iceland, Ireland, Luxembourg, Netherlands, Poland, Portugal, Romania, Sweden, Slovakia Zone 3: Switzerland, Jersey, Norway Zone 4: Canada, USA, USA FPO / APO Zone 5: Australia, New Zealand Zone 6: Japan