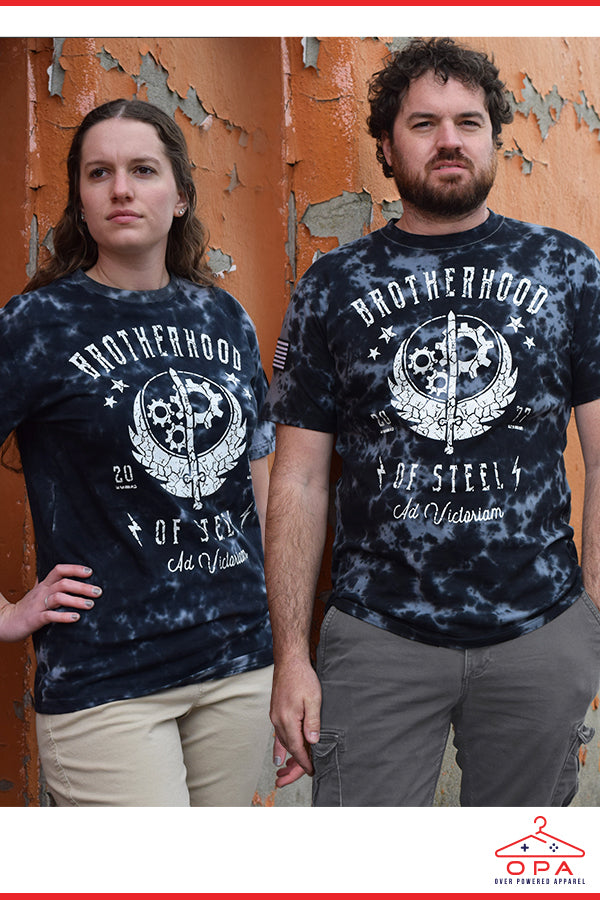 Fallout Brotherhood of Steel OPA Tee
Put on your Fallout Brotherhood of Steel OPA Tee and represent the valiant order that preserves the secrets of the past, defends the survivors of the present, and ensures the safety of the future.

Among other premium features, this shirt boasts a tailored fit, a cracked screen print, an incredibly soft and comfortable feel, some embroidered patches, and a unique design for every piece (more on that below.)
Sizing is consistent across the Over Powered Apparel collection. *
SIZES MEASURED IN INCHES/CM

S

M

L

XL

2XL

3XL

FRONT LENGTH FROM HPS

28" 

(71cm)

29" 

(73.5cm)

30"

(76.2cm)

31 1/2"

(80cm)

33" 

(84cm)

34 1/2"

(87.5cm)

CHEST WIDTH - 1" (2.5cm) FROM ARMHOLE

20" 

(51cm)

21" 

(53.5cm)

22"

(56cm)

23 1/2"

(60cm)

25" 

(63.5cm)

26 1/2"

(67.5cm)
 *This shirt is fitted. If you want a more relax fit, we suggest you select the next size up to your normal chest width.
Models shown in following sizes:
Female wearing size small (S)
Male wearing size large (L)
FEATURES
Symbol: Brotherhood of Steel logo flanked by stars
Words: Brotherhood of Steel, 2077, Ad Victoriam
Black & White Embroidered Patches
Right Sleeve: Brotherhood of Steel Flag
Left Sleeve: Paladin Rank Symbol 
Mineral Crystal Wash: each tee is dyed with salt crystals, causing the dye to separate and concentrate in random patterns
Because this process produces unique patterns for every tee, yours would vary from the pictures shown.
Material:

100% Cotton Jersey

Soft and durable
30 singles

Pre-washed yarn for an incredible soft hand feel

Water-based ink soaks into the fabric

160 gsm (Medium Weight)
Side Seams

Shoulder Seams

Set-In Sleeve

Neckband: 1x1 inch ribbed knit with stretch
Over Powered Apparel by DPI Merchandising
Cut-and-sew custom tee
Custom hang tag of vault boy in Power Armor (Peels off as sticker)
Comes in a special Bethesda garment bag with Certificate of Authenticity holographic sticker
CARING FOR YOUR OVER POWERED APPAREL
Wash cold inside out

Iron on low temperature

Lay flat to dry (If tumble-dried, tee may shrink.)

Do NOT Bleach

Do NOT dry clean 
Due to differences between monitor displays and production process, your product may vary from pictures shown.
MORE DETAILS
Fallout Video Game Merchandise
Fallout Brotherhood of Steel OPA Tee
Shipping costs
| Zone | below 400 grams | 401-800 grams | 801-2000 grams | 2001 - 4000 grams | 4001 - 6000 grams | 6001 - 8000 grams | 8001 - 10,000 grams | 10,001 - 15,000 grams | 15,001 - 23,000 grams | 23,001+ grams |
| --- | --- | --- | --- | --- | --- | --- | --- | --- | --- | --- |
| 1 | 6,65 | 7,90 | 7,90 | 8,90 | 10,90 | 10,90 | 13,17 | 14,40 | 15,90 | 15,90 |
| 2 | 8,19 | 9,98 | 12,11 | 12,89 | 13,65 | 14,37 | 15,09 | 16,98 | 24,30 | 27,65 |
| 3 | 8,63 | 11,07 | 16,05 | 17,17 | 18,26 | 19,29 | 20,31 | 23,04 | 38,81 | 44,43 |
| 4 | 19,87 | 22,12 | 27,18 | 37,28 | 49,65 | 60,03 | 70,41 | 95,82 | 153,54 | 212,32 |
| 5 | 24,93 | 27,20 | 32,30 | 42,50 | 55,41 | 66,19 | 76,97 | 103,36 | 159,70 | 210,60 |
| 6 | 18,66 | 20,28 | 23,93 | 31,22 | 40,44 | 48,14 | 55,84 | 74,69 | 114,91 | 151,28 |
All rates shown in Euros. Zone 1: Austria, Germany Zone 2: Belgium, Croatia, Czechia, Denmark, Spain, Estonia, Finland, France, United Kingdom, Greece, Hungary, Italy, Iceland, Ireland, Luxembourg, Netherlands, Poland, Portugal, Romania, Sweden, Slovakia Zone 3: Switzerland, Jersey, Norway Zone 4: Canada, USA, USA FPO / APO Zone 5: Australia, New Zealand Zone 6: Japan