A SURVIVOR'S (QUANTUM-FLAVORED) FORTUNE
Money can be hard to come by in the post-apocalypse, but resourceful survivors like you still have plenty of options. There's the NCR dollar, the Legion Denarius, and the trusty bottle caps. If you prefer your currency with a dash of isotope Strontium-90, however, you'd need something a little more special.
Introducing the Fallout Bottle Cap Series: Nuka Quantum with Collectible Tin. It includes 20 bottle caps featuring Nuka-Cola Quantum branding: logo, planets, and all. This same design is present in the tin the caps come in, albeit boasting a little distress from being out and about in the Wasteland. 
What would you do with 20 Quantum bottle caps in a tin?
INCLUDES
1x Collectible Tin Box

Nuka-Cola Artwork
Material:

 

Tin plate with decal
Size:

 

4.6 x 2.75 x 1.65 inches (117 x 70 x 42 mm)
Weight without caps:

 

2.4 oz (68 g)
Weight with caps:

 

3.7 oz (105.5 g)
20x Nuka-Cola Bottle Caps

Material:

 

tin plate with decal
Size:

 

1 inch diameter (26 mm) each
Interior Color:

 

Brass
Product color may differ from what is shown due to monitor display variance.

MORE DETAILS
Fallout Video Game Merchandise
Fallout Bottle Cap Series Nuka Quantum with Collectible Tin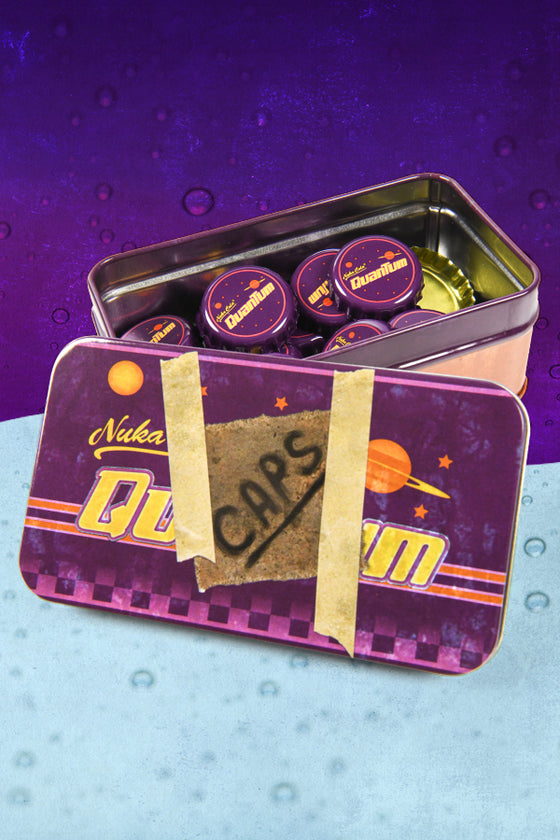 Fallout Bottle Cap Series Nuka Quantum with Collectible Tin
Added to cart
Subtotal
Go to cart
Shipping costs
| Zone | below 400 grams | 401-800 grams | 801-2000 grams | 2001 - 4000 grams | 4001 - 6000 grams | 6001 - 8000 grams | 8001 - 10,000 grams | 10,001 - 15,000 grams | 15,001 - 23,000 grams | 23,001+ grams |
| --- | --- | --- | --- | --- | --- | --- | --- | --- | --- | --- |
| 1 | 6,65 | 7,90 | 7,90 | 8,90 | 10,90 | 10,90 | 13,17 | 14,40 | 15,90 | 15,90 |
| 2 | 8,19 | 9,98 | 12,11 | 12,89 | 13,65 | 14,37 | 15,09 | 16,98 | 24,30 | 27,65 |
| 3 | 8,63 | 11,07 | 16,05 | 17,17 | 18,26 | 19,29 | 20,31 | 23,04 | 38,81 | 44,43 |
| 4 | 19,87 | 22,12 | 27,18 | 37,28 | 49,65 | 60,03 | 70,41 | 95,82 | 153,54 | 212,32 |
| 5 | 24,93 | 27,20 | 32,30 | 42,50 | 55,41 | 66,19 | 76,97 | 103,36 | 159,70 | 210,60 |
| 6 | 18,66 | 20,28 | 23,93 | 31,22 | 40,44 | 48,14 | 55,84 | 74,69 | 114,91 | 151,28 |
All rates shown in Euros. Zone 1: Austria, Germany Zone 2: Belgium, Croatia, Czechia, Denmark, Spain, Estonia, Finland, France, United Kingdom, Greece, Hungary, Italy, Iceland, Ireland, Luxembourg, Netherlands, Poland, Portugal, Romania, Sweden, Slovakia Zone 3: Switzerland, Jersey, Norway Zone 4: Canada, USA, USA FPO / APO Zone 5: Australia, New Zealand Zone 6: Japan