A SURVIVOR'S FORTUNE
Weapons. Clothes. Food. Fancy neon signs. The most exciting thing about a boxful of caps is the wealth of possibilities it represents.
The Fallout Bottle Cap Series: Nuka-Cola with Collectible Tin includes a pocketable tin box that features Nuka-Cola artwork, helpfully labelled with the word, CAPS on the lid.
The box shows some telltale signs of withstanding the Wastes, allowing the caps inside to maintain their brand new condition. (These are the same kind of caps you'd find bundled with the brand's Glass Rocket Bottle.)
So, what would you do with 20 caps and a vintage-looking tin?
INCLUDES
1x Collectible Tin Box

Nuka-Cola Artwork
Material:

 

Tin plate with decal
Size:

 

4.6 x 2.75 x 1.65 inches (117 x 70 x 42 mm)
Weight without caps:

 

2.4 oz (68 g)
Weight with caps:

 

3.7 oz (105.5 g)
20x Nuka-Cola Bottle Caps

Material:

 

tin plate with decal
Size:

 

1 inch diameter (26 mm) each

Interior Color: Brass
Product color may differ from what is shown due to monitor display variance.
MORE DETAILS
Fallout Video Game Merchandise
Fallout Bottle Cap Series Nuka Cola with Collectible Tin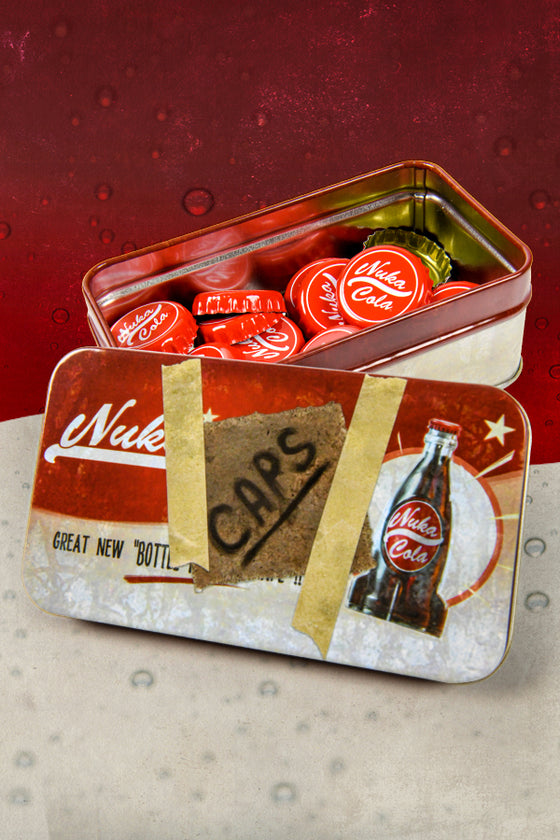 Fallout Bottle Cap Series Nuka Cola with Collectible Tin
Added to cart
Subtotal
Go to cart
Shipping costs
| Zone | below 400 grams | 401-800 grams | 801-2000 grams | 2001 - 4000 grams | 4001 - 6000 grams | 6001 - 8000 grams | 8001 - 10,000 grams | 10,001 - 15,000 grams | 15,001 - 23,000 grams | 23,001+ grams |
| --- | --- | --- | --- | --- | --- | --- | --- | --- | --- | --- |
| 1 | 6,65 | 7,90 | 7,90 | 8,90 | 10,90 | 10,90 | 13,17 | 14,40 | 15,90 | 15,90 |
| 2 | 8,19 | 9,98 | 12,11 | 12,89 | 13,65 | 14,37 | 15,09 | 16,98 | 24,30 | 27,65 |
| 3 | 8,63 | 11,07 | 16,05 | 17,17 | 18,26 | 19,29 | 20,31 | 23,04 | 38,81 | 44,43 |
| 4 | 19,87 | 22,12 | 27,18 | 37,28 | 49,65 | 60,03 | 70,41 | 95,82 | 153,54 | 212,32 |
| 5 | 24,93 | 27,20 | 32,30 | 42,50 | 55,41 | 66,19 | 76,97 | 103,36 | 159,70 | 210,60 |
| 6 | 18,66 | 20,28 | 23,93 | 31,22 | 40,44 | 48,14 | 55,84 | 74,69 | 114,91 | 151,28 |
All rates shown in Euros. Zone 1: Austria, Germany Zone 2: Belgium, Croatia, Czechia, Denmark, Spain, Estonia, Finland, France, United Kingdom, Greece, Hungary, Italy, Iceland, Ireland, Luxembourg, Netherlands, Poland, Portugal, Romania, Sweden, Slovakia Zone 3: Switzerland, Jersey, Norway Zone 4: Canada, USA, USA FPO / APO Zone 5: Australia, New Zealand Zone 6: Japan