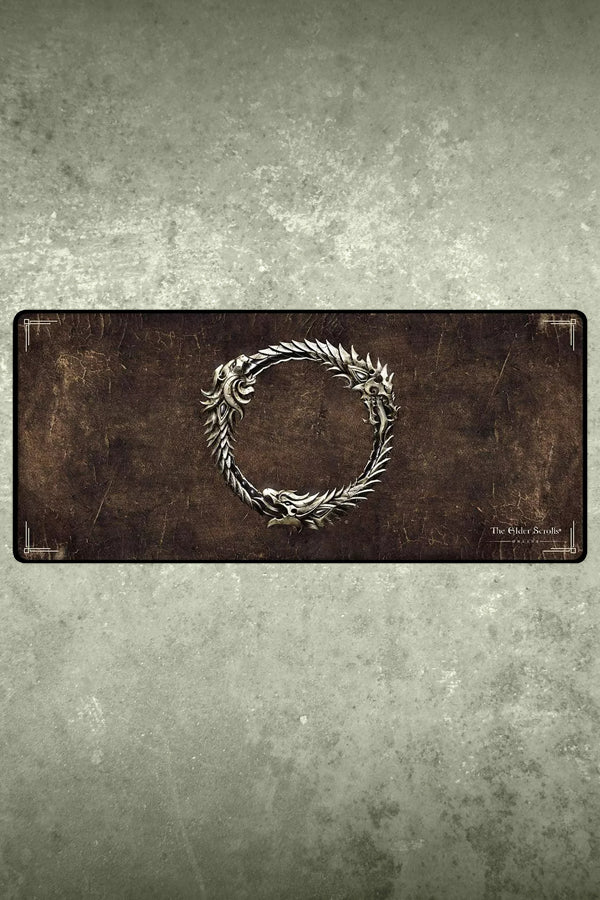 For Your Perfect Grip on Tamriel!
The three different factions in The Elder Scrolls Online have been fighting bitter battles for many years now.
In the great Alliance War, the leaders of the covenants strive to build the empire, but each wants to rule over the capital of Cyrodil for himself.
The Ouroboros sign symbolizes the three different alliances Ebonheart Pact with the head of a dragon, Aldmeri Dominion with the head of an eagle and the Dagger Fall Covenant with the head of a lion.
All three alliances together make up the great empire, but the emperor is still uncrowned.
With The Elder Scrolls Online mousepad you can lead your faction to victory. With improved accuracy and control your gameplay will be better and more enjoyable from now on. Your spells and attacks will hit better than ever with precision mouse clicks, and the extra-large surface also provides additional space for your keyboard.
With the specially developed Silk Seal surface, perfect functionality goes hand in hand with long-lasting color brilliance. Both the comfortable and non-slip base and the glide of your mouse let you enjoy a smoother and more accurate gaming experience. With the impressive artwork, this mouse pad is a true addition to any PC set-up. 
Color: Real durable quality with high color fidelity.
Material: High-quality fabric with non-slip rubber bottom
Print: "The Elder Scrolls Online" Ouroboros
Dimensions: 80 x 36 x 0.4 cm
Weight: 746 grams
Officially licensed by Bethesda
Made with love by Gaya Entertainment
Elder Scrolls Online Ouroboros Mousepad
Shipping costs
| Zone | below 400 grams | 401-800 grams | 801-2000 grams | 2001 - 4000 grams | 4001 - 6000 grams | 6001 - 8000 grams | 8001 - 10,000 grams | 10,001 - 15,000 grams | 15,001 - 23,000 grams | 23,001+ grams |
| --- | --- | --- | --- | --- | --- | --- | --- | --- | --- | --- |
| 1 | 6,65 | 7,90 | 7,90 | 8,90 | 10,90 | 10,90 | 13,17 | 14,40 | 15,90 | 15,90 |
| 2 | 8,19 | 9,98 | 12,11 | 12,89 | 13,65 | 14,37 | 15,09 | 16,98 | 24,30 | 27,65 |
| 3 | 8,63 | 11,07 | 16,05 | 17,17 | 18,26 | 19,29 | 20,31 | 23,04 | 38,81 | 44,43 |
| 4 | 19,87 | 22,12 | 27,18 | 37,28 | 49,65 | 60,03 | 70,41 | 95,82 | 153,54 | 212,32 |
| 5 | 24,93 | 27,20 | 32,30 | 42,50 | 55,41 | 66,19 | 76,97 | 103,36 | 159,70 | 210,60 |
| 6 | 18,66 | 20,28 | 23,93 | 31,22 | 40,44 | 48,14 | 55,84 | 74,69 | 114,91 | 151,28 |
All rates shown in Euros. Zone 1: Austria, Germany Zone 2: Belgium, Croatia, Czechia, Denmark, Spain, Estonia, Finland, France, United Kingdom, Greece, Hungary, Italy, Iceland, Ireland, Luxembourg, Netherlands, Poland, Portugal, Romania, Sweden, Slovakia Zone 3: Switzerland, Jersey, Norway Zone 4: Canada, USA, USA FPO / APO Zone 5: Australia, New Zealand Zone 6: Japan