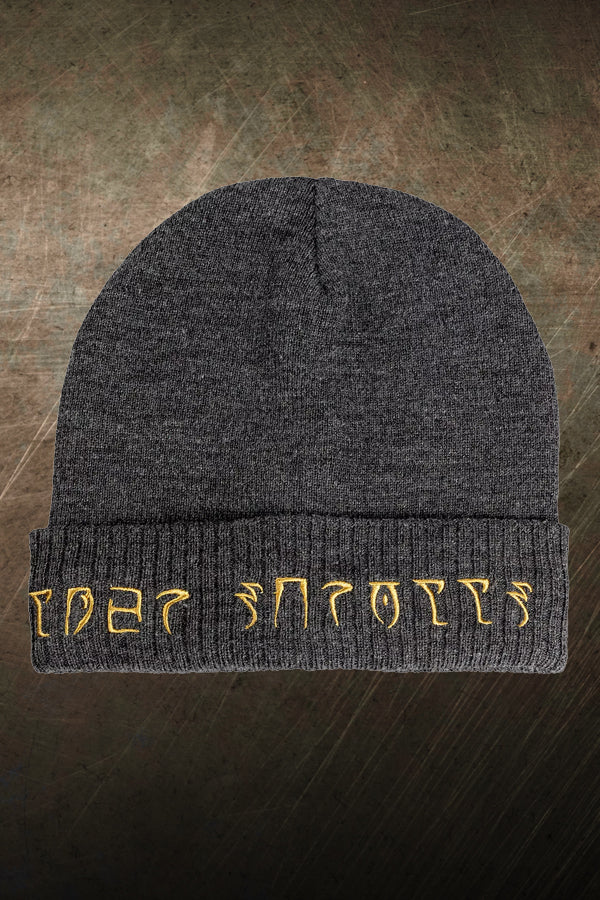 The Headwear for all Adventurers of Tamriel!
Away from Oblivion, it is quite common for Daedric warriors to shiver with chills. Fortunately, it is very easy to prepare yourself against the harsh lands of Tamriel. Even in the icy realms of Western Skyrim, you'd be perfectly equipped with this stylish beanie.
Of course, you should avoid taking a single-pointed blow to the head, because our armourers obviously focus on style and coolness more than on armour. 
This "The Elder Scrolls: Online" beanie hat comes straight out of the nearest Oblivion gate and cuts an absolutely cool figure even away from the otherworldly sphere.
The embroidered lettering "The Elder Scrolls Online" in golden, Daedric rune inscription adorns the grey beanie with special charm.
Color: Grey
Print: Daedric runic script "The Elder Scrolls Online
Size: One size fits all
Material: Acrylic (Beanie), PVC (Lettering)
Weight: 100 grams
Officially licensed by Bethesda
Made with love by Gaya Entertainment
Elder Scrolls Online Daedric Runes Grey Beanie
Shipping costs
| Zone | below 400 grams | 401-800 grams | 801-2000 grams | 2001 - 4000 grams | 4001 - 6000 grams | 6001 - 8000 grams | 8001 - 10,000 grams | 10,001 - 15,000 grams | 15,001 - 23,000 grams | 23,001+ grams |
| --- | --- | --- | --- | --- | --- | --- | --- | --- | --- | --- |
| 1 | 6,65 | 7,90 | 7,90 | 8,90 | 10,90 | 10,90 | 13,17 | 14,40 | 15,90 | 15,90 |
| 2 | 8,19 | 9,98 | 12,11 | 12,89 | 13,65 | 14,37 | 15,09 | 16,98 | 24,30 | 27,65 |
| 3 | 8,63 | 11,07 | 16,05 | 17,17 | 18,26 | 19,29 | 20,31 | 23,04 | 38,81 | 44,43 |
| 4 | 19,87 | 22,12 | 27,18 | 37,28 | 49,65 | 60,03 | 70,41 | 95,82 | 153,54 | 212,32 |
| 5 | 24,93 | 27,20 | 32,30 | 42,50 | 55,41 | 66,19 | 76,97 | 103,36 | 159,70 | 210,60 |
| 6 | 18,66 | 20,28 | 23,93 | 31,22 | 40,44 | 48,14 | 55,84 | 74,69 | 114,91 | 151,28 |
All rates shown in Euros. Zone 1: Austria, Germany Zone 2: Belgium, Croatia, Czechia, Denmark, Spain, Estonia, Finland, France, United Kingdom, Greece, Hungary, Italy, Iceland, Ireland, Luxembourg, Netherlands, Poland, Portugal, Romania, Sweden, Slovakia Zone 3: Switzerland, Jersey, Norway Zone 4: Canada, USA, USA FPO / APO Zone 5: Australia, New Zealand Zone 6: Japan