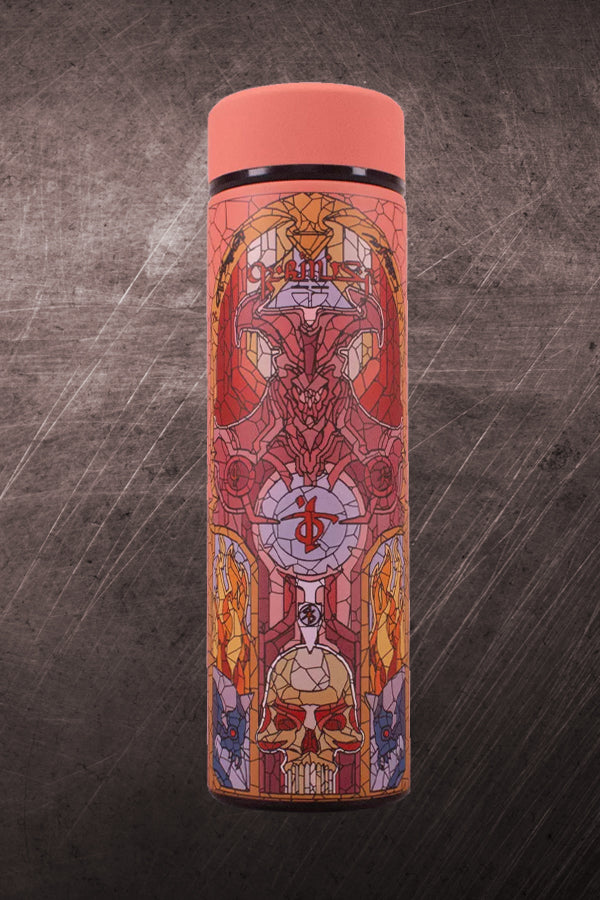 The unholy grail!
Even in the gauntlet of the boiling heat of hell, every DOOM Slayer can occasionally use a cooling freshener. With this DOOM Thermo Bottle, your favorite beverage will stay either pleasantly cool, or hot as the lava flows of the Hell dimension.
No matter where you are or which demons you are slicing, stay cool, stylish and hydrated!
The thermos in demon-inspired stained glass look is an absolute must-have for every true DOOM fan.
Whether you're at the university, gym, travelling or at work, this drinking bottle will make you stand out like a DOOMicorn at the petting zoo.
Color: Red
Print: DOOM - Stained glass optic
Size: 22 cm (diameter 6.5 cm)
Material: Stainless steel
Volume: 0,5L
Weight: 384 grams
Year: 2021
Officially licensed by Bethesda
Made by Gaya Entertainment
DOOM Eternal Stained Glass Sentinel Thermo Bottle
Shipping costs
| Zone | below 400 grams | 401-800 grams | 801-2000 grams | 2001 - 4000 grams | 4001 - 6000 grams | 6001 - 8000 grams | 8001 - 10,000 grams | 10,001 - 15,000 grams | 15,001 - 23,000 grams | 23,001+ grams |
| --- | --- | --- | --- | --- | --- | --- | --- | --- | --- | --- |
| 1 | 6,65 | 7,90 | 7,90 | 8,90 | 10,90 | 10,90 | 13,17 | 14,40 | 15,90 | 15,90 |
| 2 | 8,19 | 9,98 | 12,11 | 12,89 | 13,65 | 14,37 | 15,09 | 16,98 | 24,30 | 27,65 |
| 3 | 8,63 | 11,07 | 16,05 | 17,17 | 18,26 | 19,29 | 20,31 | 23,04 | 38,81 | 44,43 |
| 4 | 19,87 | 22,12 | 27,18 | 37,28 | 49,65 | 60,03 | 70,41 | 95,82 | 153,54 | 212,32 |
| 5 | 24,93 | 27,20 | 32,30 | 42,50 | 55,41 | 66,19 | 76,97 | 103,36 | 159,70 | 210,60 |
| 6 | 18,66 | 20,28 | 23,93 | 31,22 | 40,44 | 48,14 | 55,84 | 74,69 | 114,91 | 151,28 |
All rates shown in Euros. Zone 1: Austria, Germany Zone 2: Belgium, Croatia, Czechia, Denmark, Spain, Estonia, Finland, France, United Kingdom, Greece, Hungary, Italy, Iceland, Ireland, Luxembourg, Netherlands, Poland, Portugal, Romania, Sweden, Slovakia Zone 3: Switzerland, Jersey, Norway Zone 4: Canada, USA, USA FPO / APO Zone 5: Australia, New Zealand Zone 6: Japan