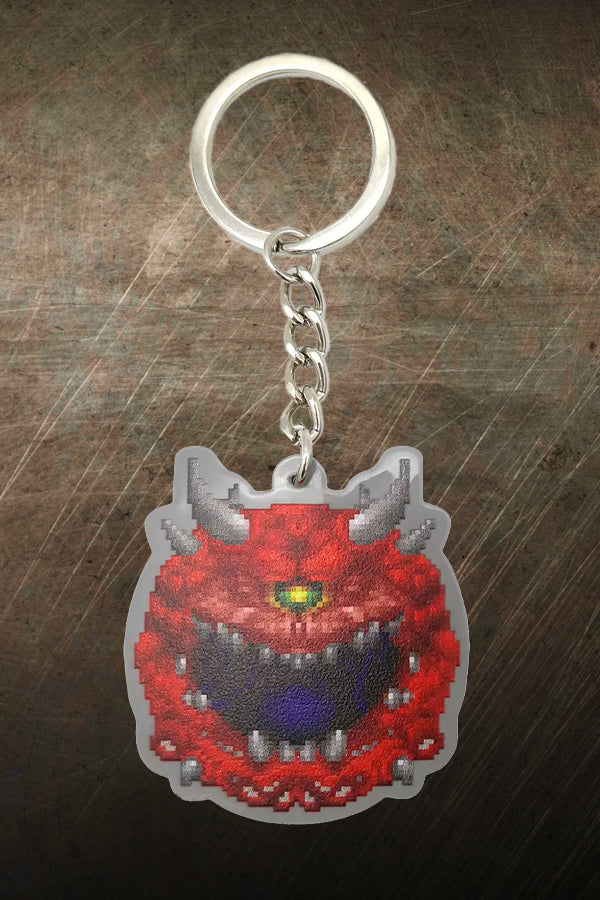 The fearsome key keeper!
Cacodemon are the most famous enemies in the entire DOOM universe. Not only are they notorious for their striking body shape, but their table manners are also infamous in every dimension.
With this keychain you always have the bullet-round creep at your side, in a charming pixelated retro look this Cacodemon reminds you of the good old beginning of the DOOM era.

Material: Zinc alloy, resin, metal, nylon
Size: Estimated 4 cm x 4 cm
Weight: 21 grams
Officially licensed and produced by Bethesda
Attention: Not suitable for children under 3 years
Shipping costs
| Zone | below 400 grams | 401-800 grams | 801-2000 grams | 2001 - 4000 grams | 4001 - 6000 grams | 6001 - 8000 grams | 8001 - 10,000 grams | 10,001 - 15,000 grams | 15,001 - 23,000 grams | 23,001+ grams |
| --- | --- | --- | --- | --- | --- | --- | --- | --- | --- | --- |
| 1 | 6,65 | 7,90 | 7,90 | 8,90 | 10,90 | 10,90 | 13,17 | 14,40 | 15,90 | 15,90 |
| 2 | 8,19 | 9,98 | 12,11 | 12,89 | 13,65 | 14,37 | 15,09 | 16,98 | 24,30 | 27,65 |
| 3 | 8,63 | 11,07 | 16,05 | 17,17 | 18,26 | 19,29 | 20,31 | 23,04 | 38,81 | 44,43 |
| 4 | 19,87 | 22,12 | 27,18 | 37,28 | 49,65 | 60,03 | 70,41 | 95,82 | 153,54 | 212,32 |
| 5 | 24,93 | 27,20 | 32,30 | 42,50 | 55,41 | 66,19 | 76,97 | 103,36 | 159,70 | 210,60 |
| 6 | 18,66 | 20,28 | 23,93 | 31,22 | 40,44 | 48,14 | 55,84 | 74,69 | 114,91 | 151,28 |
All rates shown in Euros. Zone 1: Austria, Germany Zone 2: Belgium, Croatia, Czechia, Denmark, Spain, Estonia, Finland, France, United Kingdom, Greece, Hungary, Italy, Iceland, Ireland, Luxembourg, Netherlands, Poland, Portugal, Romania, Sweden, Slovakia Zone 3: Switzerland, Jersey, Norway Zone 4: Canada, USA, USA FPO / APO Zone 5: Australia, New Zealand Zone 6: Japan