Skip to product information
FEATURES
Front panels:

Material: 100% Cotton Twill
All over monochromatic print of Vault Boy in various situations
White on black Vault Tec Embroidered

Black Bill:

Material: 100% Cotton Twill

Back and Side Panels:

Material: 100% Polyester
White mesh
Left side panel: Vault-Tec Logo grey with black outlines

Adjustable White Plastic Snap Back

Fallout branded tag on the left side of the strap

Inside:

Custom tap Vault-Tec in black on a white background

Product color may differ from what is shown due to monitor display variance.
Weight: 81 grams
CARE INSTRUCTIONS

Do NOT Wash
Do NOT Bleach
If need be, wipe with a damp cloth. 
CAN YOU SPOT YOUR FAVORITE VAULT BOY?
With so many versions of Vault Boy we just couldn't stop at the Fallout Vault-Tec Active Shorts. We had to pair them with the Fallout Vault-Tec Baseball Cap.
This cap is great for on-the-go days or doing chores in the yard. And by chores we mean taking out the feral ghouls that have infested the Commonwealth. The monochromatic theme makes this cap easy to pair with any of your favorite Fallout gear. The mesh side and back panels allows for breathability for those long days you spend searching the wastes.
Wear it forwards or backwards, this cap looks great from any angle. You have the Vault-Tec logo in grey with black outlines on the left-hand side and a Fallout branded tag on the back of the cap. There's even a custom tape branded Vault-Tec on the inside. 
Wear your new Vault-Tec hat with all the shenanigans of Vault Boy in style.
MORE DETAILS
Fallout Video Game Merch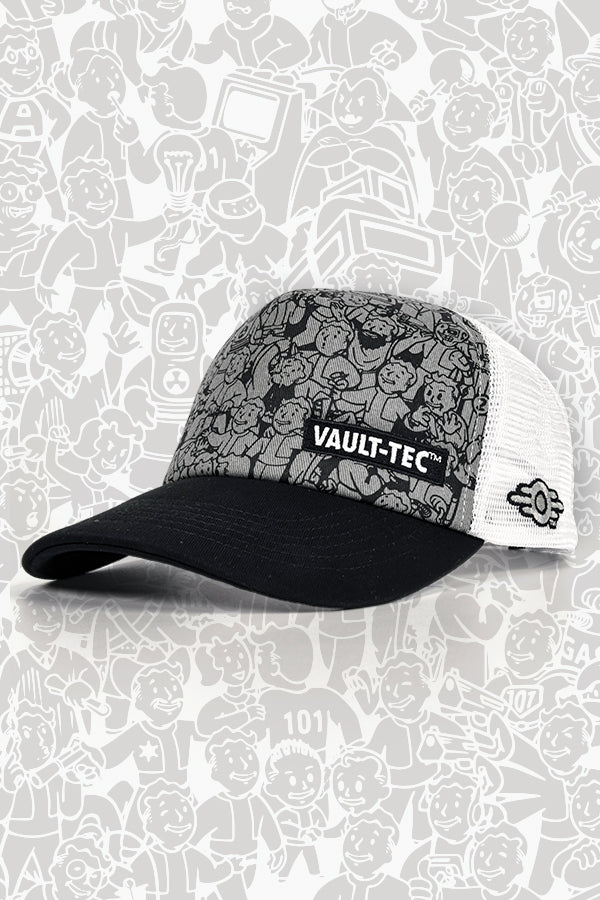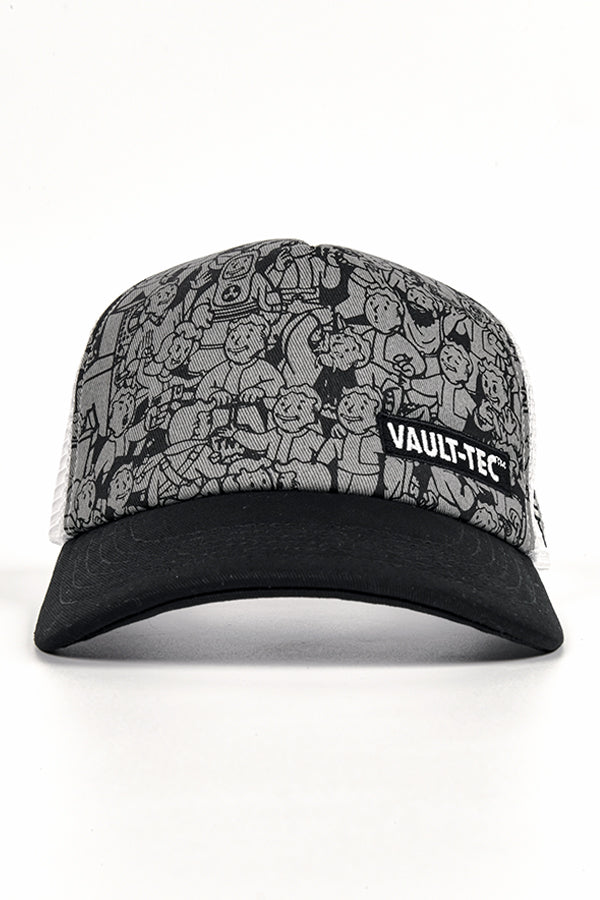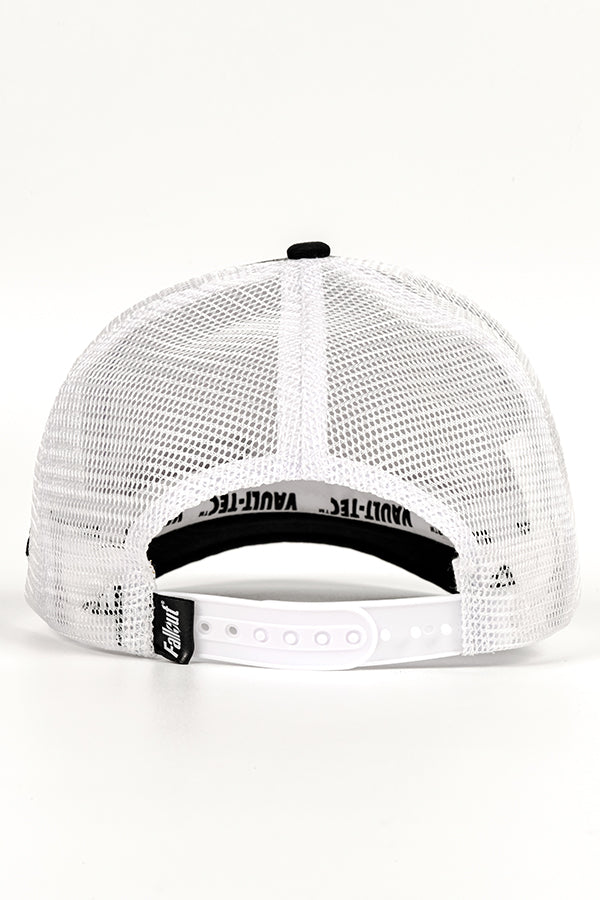 Shipping costs
| Zone | below 400 grams | 401-800 grams | 801-2000 grams | 2001 - 4000 grams | 4001 - 6000 grams | 6001 - 8000 grams | 8001 - 10,000 grams | 10,001 - 15,000 grams | 15,001 - 23,000 grams | 23,001+ grams |
| --- | --- | --- | --- | --- | --- | --- | --- | --- | --- | --- |
| 1 | 6,65 | 7,90 | 7,90 | 8,90 | 10,90 | 10,90 | 13,17 | 14,40 | 15,90 | 15,90 |
| 2 | 8,19 | 9,98 | 12,11 | 12,89 | 13,65 | 14,37 | 15,09 | 16,98 | 24,30 | 27,65 |
| 3 | 8,63 | 11,07 | 16,05 | 17,17 | 18,26 | 19,29 | 20,31 | 23,04 | 38,81 | 44,43 |
| 4 | 19,87 | 22,12 | 27,18 | 37,28 | 49,65 | 60,03 | 70,41 | 95,82 | 153,54 | 212,32 |
| 5 | 24,93 | 27,20 | 32,30 | 42,50 | 55,41 | 66,19 | 76,97 | 103,36 | 159,70 | 210,60 |
| 6 | 18,66 | 20,28 | 23,93 | 31,22 | 40,44 | 48,14 | 55,84 | 74,69 | 114,91 | 151,28 |
All rates shown in Euros. Zone 1: Austria, Germany Zone 2: Belgium, Croatia, Czechia, Denmark, Spain, Estonia, Finland, France, United Kingdom, Greece, Hungary, Italy, Iceland, Ireland, Luxembourg, Netherlands, Poland, Portugal, Romania, Sweden, Slovakia Zone 3: Switzerland, Jersey, Norway Zone 4: Canada, USA, USA FPO / APO Zone 5: Australia, New Zealand Zone 6: Japan