Skip to product information
FEATURES
3d-Sculpted

Deathclaw head
Deathclaw horns function as handles
Large Size

Height: 4.125 in (10.48 cm)
Widest point including handles: 7 in (17.78 cm)
Depth at widest point: 5.25 in (13.33 cm)
Bottom diameter: 3.125 in (7.94 cm)
Top diameter: 3.25 in (8.25 cm)
Large Capacity: 18 oz (532.32 mL)
Product color may differ from what is shown due to monitor display variance and the product's hand painted nature.
CARE INSTRUCTIONS

Microwave and top-rack residential dishwasher safe

Hand wash is recommended due to size and shape
BEHOLD THE ALPHA MUG
With its killer looks and large size, the Fallout Deathclaw Mug will no doubt become the leader of the pack in your drinkware collection.
Bring to your table the apex predator of the Wastes. This 3D-sculpted mug is modelled after a Deathclaw's head. It wears an intimidating expression: yellow eyes glaring, sharp fangs bared. This is the last face so many in the Wasteland live to see, and it could be the face that would greet you in the morning whenever you're ready to start your day.
So grab it by the horns and pour in your coffee. Those protrusions on either side aren't just for show. They are handles to help you carry up to 18 ounces of your chosen drink - a large amount worthy of a Deathclaw's larger-than-life reputation.
Do you love Deathclaws or do you love to hunt them? There's something about drinking from its head that just lends a bit of attitude to your everyday routine. If you're pro-Deathclaw, it could feel like a tribute to one of the most fascinating yet misunderstood creatures of the Wastes. If you're anti-Deathclaw, well, how does it feel to drink from the skull of your enemy? 
MORE DETAILS
Fallout Video Game Merch
Home & Office: Coffee Mug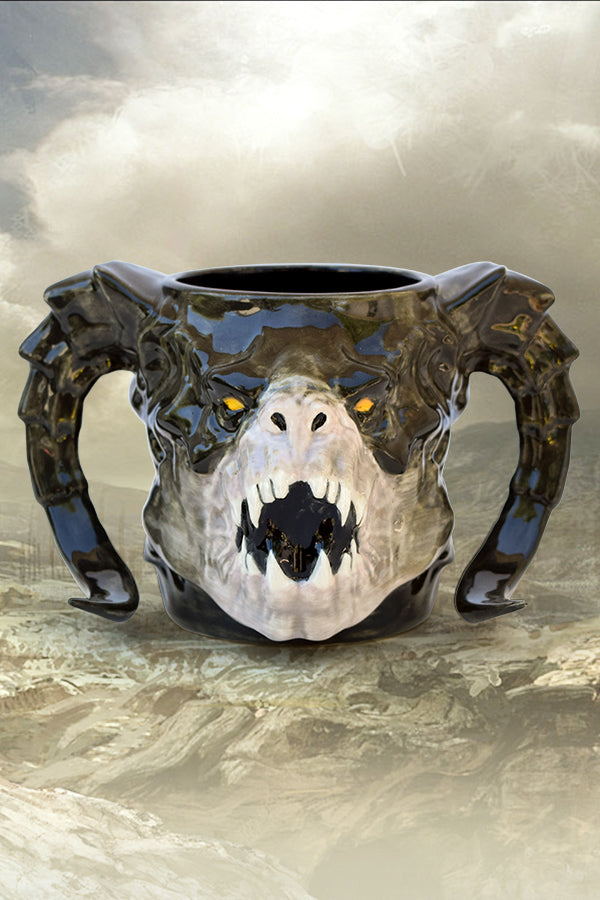 Shipping costs
| Zone | below 400 grams | 401-800 grams | 801-2000 grams | 2001 - 4000 grams | 4001 - 6000 grams | 6001 - 8000 grams | 8001 - 10,000 grams | 10,001 - 15,000 grams | 15,001 - 23,000 grams | 23,001+ grams |
| --- | --- | --- | --- | --- | --- | --- | --- | --- | --- | --- |
| 1 | 6,65 | 7,90 | 7,90 | 8,90 | 10,90 | 10,90 | 13,17 | 14,40 | 15,90 | 15,90 |
| 2 | 8,19 | 9,98 | 12,11 | 12,89 | 13,65 | 14,37 | 15,09 | 16,98 | 24,30 | 27,65 |
| 3 | 8,63 | 11,07 | 16,05 | 17,17 | 18,26 | 19,29 | 20,31 | 23,04 | 38,81 | 44,43 |
| 4 | 19,87 | 22,12 | 27,18 | 37,28 | 49,65 | 60,03 | 70,41 | 95,82 | 153,54 | 212,32 |
| 5 | 24,93 | 27,20 | 32,30 | 42,50 | 55,41 | 66,19 | 76,97 | 103,36 | 159,70 | 210,60 |
| 6 | 18,66 | 20,28 | 23,93 | 31,22 | 40,44 | 48,14 | 55,84 | 74,69 | 114,91 | 151,28 |
All rates shown in Euros. Zone 1: Austria, Germany Zone 2: Belgium, Croatia, Czechia, Denmark, Spain, Estonia, Finland, France, United Kingdom, Greece, Hungary, Italy, Iceland, Ireland, Luxembourg, Netherlands, Poland, Portugal, Romania, Sweden, Slovakia Zone 3: Switzerland, Jersey, Norway Zone 4: Canada, USA, USA FPO / APO Zone 5: Australia, New Zealand Zone 6: Japan