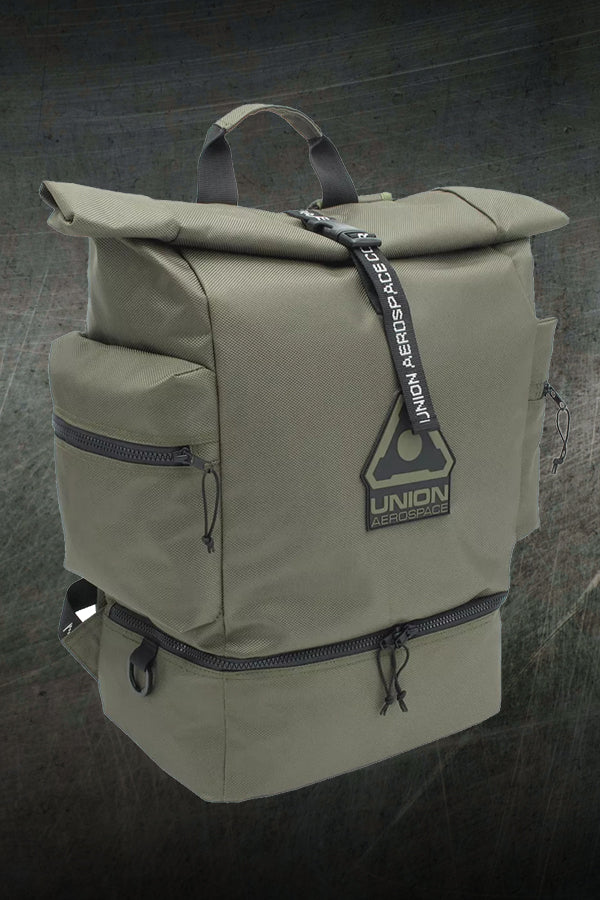 Join the UAC!
Perfect for the exhausting trip through hideous dimensions of hell, but also useful in everyday life (and extremely cool).
Whether you're just passing through or have a mission to accomplish, this stylish UAC roll-top backpack is faithfully at your disposal and won't leave your side.
Thanks to fully adjustable chest and shoulder straps, the backpack fully adapts to you and remains useful and comfortable, even in the heat of battle.
True DOOM Slayers will not only enjoy the UAC military look but can even wade through demon blood with this backpack because this one is completely waterproof.
Space for your entire inventory is of course also given, not only a laptop case but also a completely separate compartment for sportswear or shoes offers you all kinds of possibilities.
You can tell that this backpack is usually issued to UAC cadets by the large UAC Rubber patch and the woven "Union Aerospace Corporation" ribbon.
Features: Expandable main compartment with closure, two exterior zippered pockets, laptop case and a separate compartment for shoes, etc.
Color: Khaki
Print: DOOM - Union Aerospace logo on the front 
Material: 100% waterproof polyester
Weight: 598 grams
Year: 2021
Officially licensed by Bethesda
Produced by Gaya Entertainment
DOOM UAC Rolltop Backpack
Shipping costs
| Zone | below 400 grams | 401-800 grams | 801-2000 grams | 2001 - 4000 grams | 4001 - 6000 grams | 6001 - 8000 grams | 8001 - 10,000 grams | 10,001 - 15,000 grams | 15,001 - 23,000 grams | 23,001+ grams |
| --- | --- | --- | --- | --- | --- | --- | --- | --- | --- | --- |
| 1 | 6,65 | 7,90 | 7,90 | 8,90 | 10,90 | 10,90 | 13,17 | 14,40 | 15,90 | 15,90 |
| 2 | 8,19 | 9,98 | 12,11 | 12,89 | 13,65 | 14,37 | 15,09 | 16,98 | 24,30 | 27,65 |
| 3 | 8,63 | 11,07 | 16,05 | 17,17 | 18,26 | 19,29 | 20,31 | 23,04 | 38,81 | 44,43 |
| 4 | 19,87 | 22,12 | 27,18 | 37,28 | 49,65 | 60,03 | 70,41 | 95,82 | 153,54 | 212,32 |
| 5 | 24,93 | 27,20 | 32,30 | 42,50 | 55,41 | 66,19 | 76,97 | 103,36 | 159,70 | 210,60 |
| 6 | 18,66 | 20,28 | 23,93 | 31,22 | 40,44 | 48,14 | 55,84 | 74,69 | 114,91 | 151,28 |
All rates shown in Euros. Zone 1: Austria, Germany Zone 2: Belgium, Croatia, Czechia, Denmark, Spain, Estonia, Finland, France, United Kingdom, Greece, Hungary, Italy, Iceland, Ireland, Luxembourg, Netherlands, Poland, Portugal, Romania, Sweden, Slovakia Zone 3: Switzerland, Jersey, Norway Zone 4: Canada, USA, USA FPO / APO Zone 5: Australia, New Zealand Zone 6: Japan