Skip to product information
FEATURES
Unisex Apron with digital print of the DOOM Praetor Suit
Mark of the Slayer at wearer's left hem
Adult One-Size-Fits-Most

Width: 68.58 cm (27 in)
Length: 96.01 cm (37.8 in) from High Point of Shoulder (HPS) to Hem
Adjustable Straps at the Neck and Waist

Length: 61.98 cm (24.4 in)
Width: 2.54 cm (1 in)
Weight: 184 grams
Material

100% Cotton Canvas
180 gsm
Product color may differ from what is shown due to monitor display variance.
CARE INSTRUCTIONS

Wash cold with like colors
Hang to dry. If tumble dried, apron may shrink.
Do NOT Bleach
Do NOT Dry Clean
Iron on low temperature
DON'T COOK WITHOUT YOUR PRAETOR SUIT
Making food - like slaying demons - can get messy. So be like the DOOM Slayer and put on some armor. The DOOM Slayer Apron lets you give the illusion of wearing the Slayer's classic green and gray praetor suit. It's a dash of rip-and-tear flair to season your time in the kitchen, and a great look to sport when hosting barbeque parties.
MORE DETAIL
DOOM Video Game Merchandise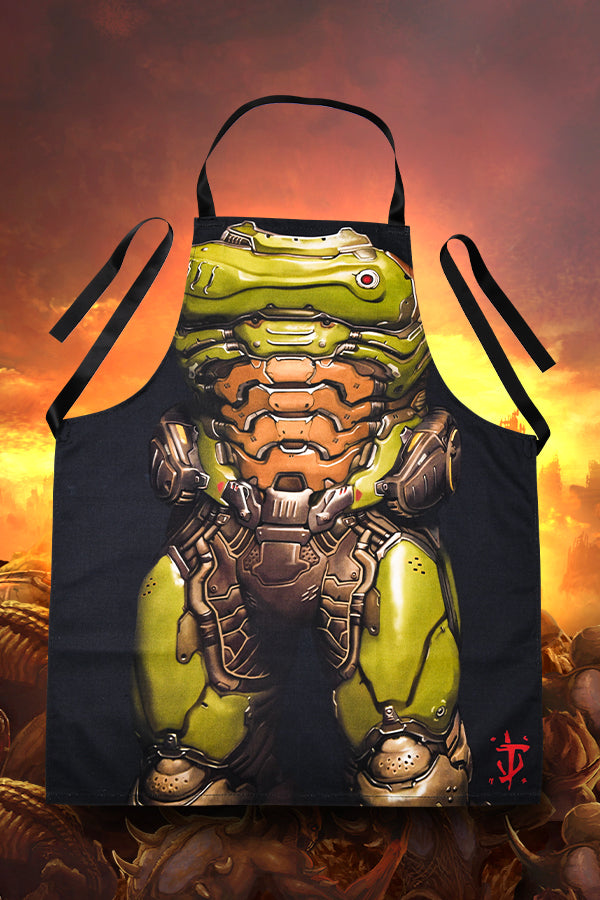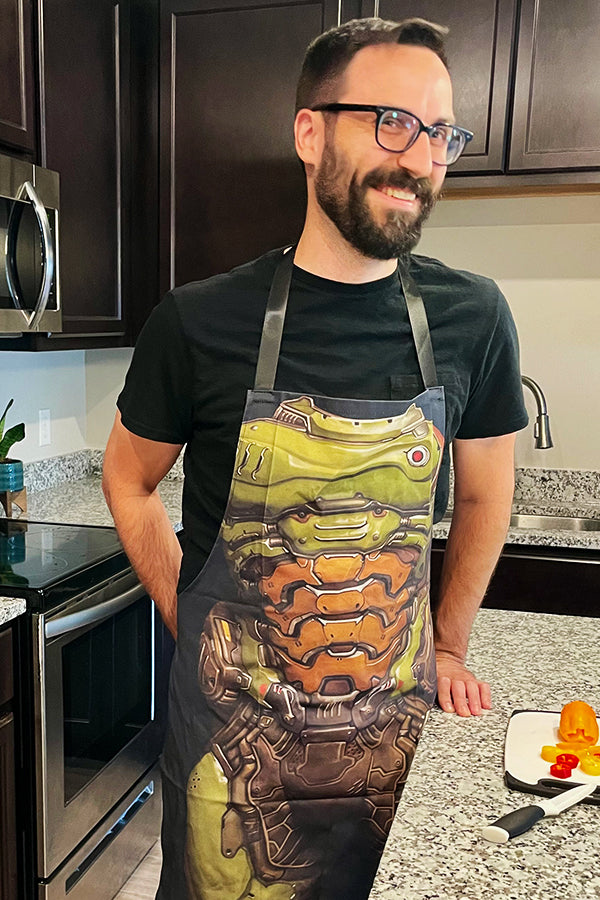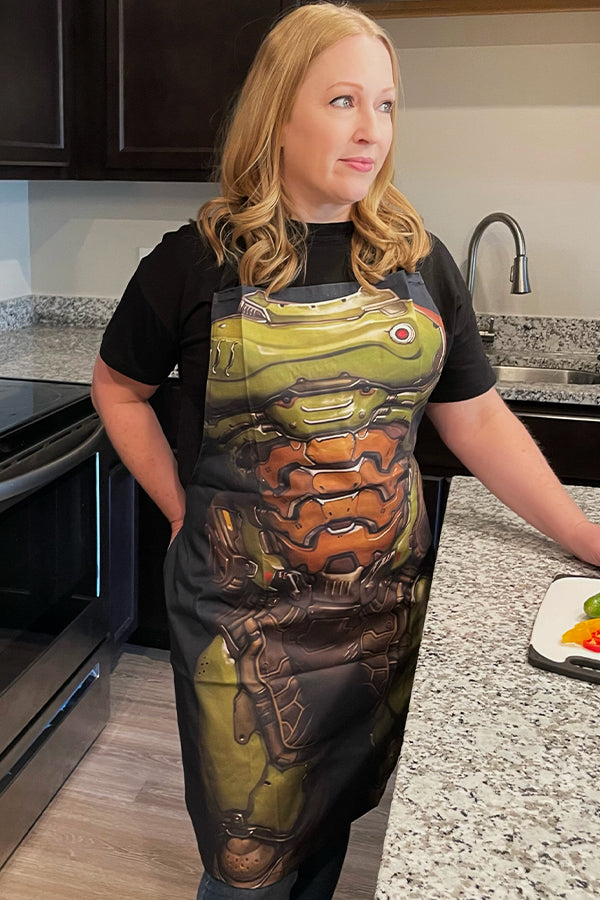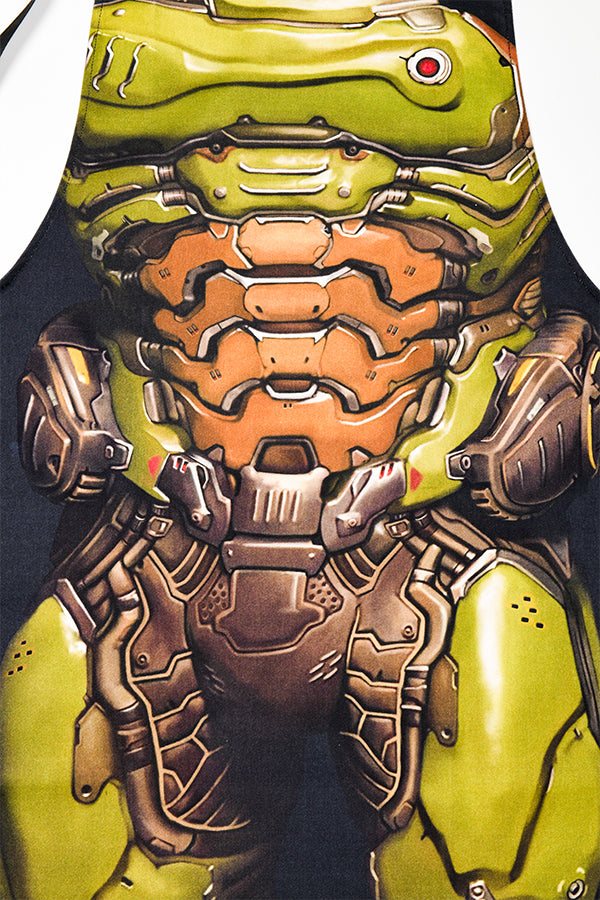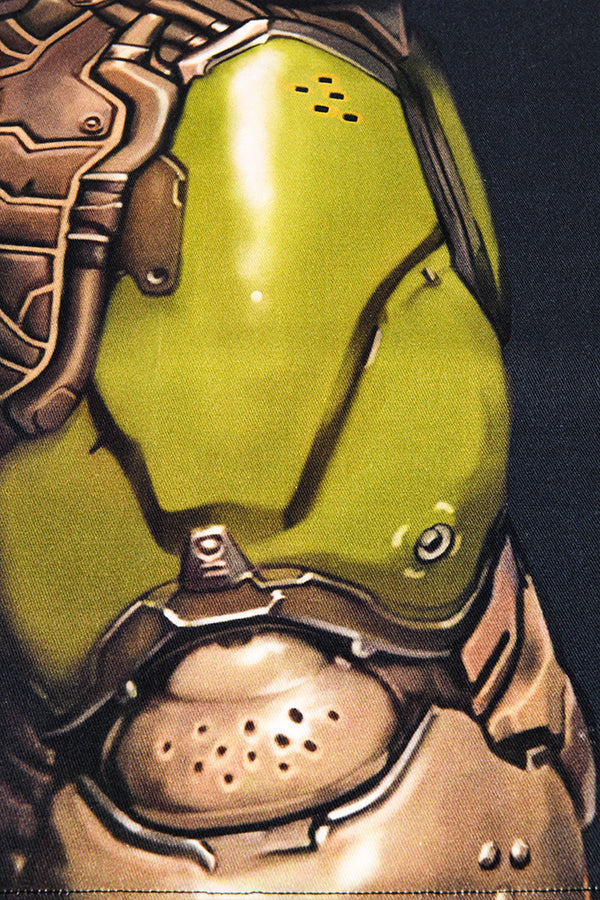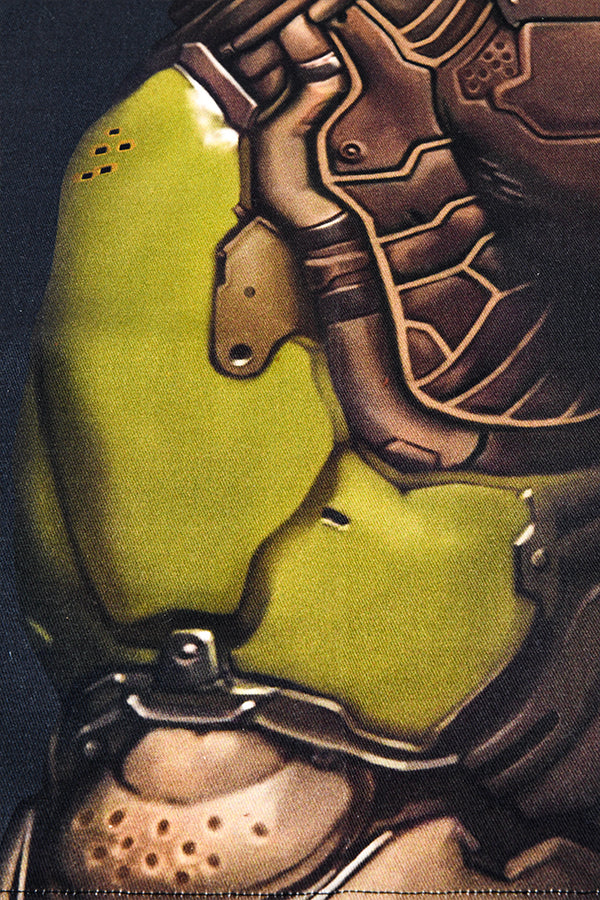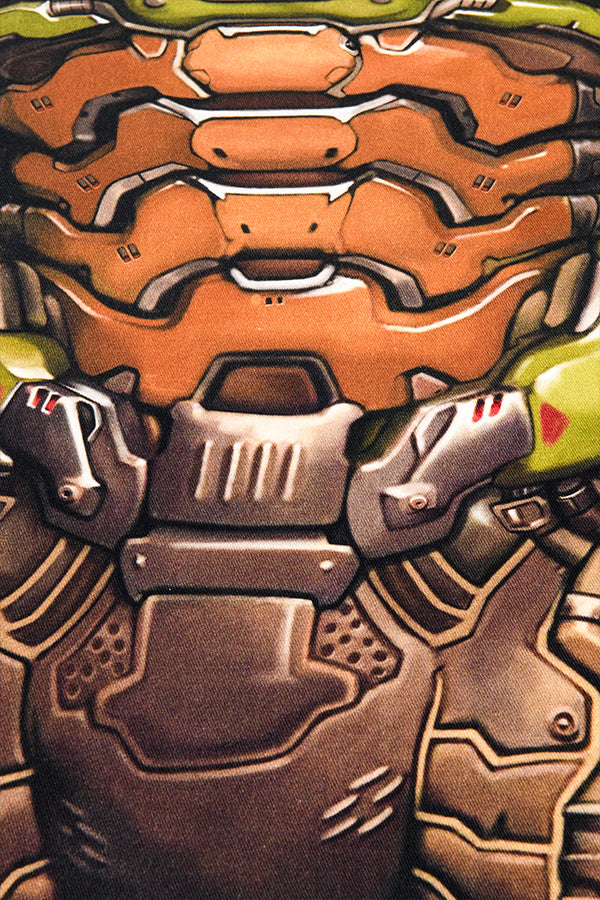 Shipping costs
| Zone | below 400 grams | 401-800 grams | 801-2000 grams | 2001 - 4000 grams | 4001 - 6000 grams | 6001 - 8000 grams | 8001 - 10,000 grams | 10,001 - 15,000 grams | 15,001 - 23,000 grams | 23,001+ grams |
| --- | --- | --- | --- | --- | --- | --- | --- | --- | --- | --- |
| 1 | 6,65 | 7,90 | 7,90 | 8,90 | 10,90 | 10,90 | 13,17 | 14,40 | 15,90 | 15,90 |
| 2 | 8,19 | 9,98 | 12,11 | 12,89 | 13,65 | 14,37 | 15,09 | 16,98 | 24,30 | 27,65 |
| 3 | 8,63 | 11,07 | 16,05 | 17,17 | 18,26 | 19,29 | 20,31 | 23,04 | 38,81 | 44,43 |
| 4 | 19,87 | 22,12 | 27,18 | 37,28 | 49,65 | 60,03 | 70,41 | 95,82 | 153,54 | 212,32 |
| 5 | 24,93 | 27,20 | 32,30 | 42,50 | 55,41 | 66,19 | 76,97 | 103,36 | 159,70 | 210,60 |
| 6 | 18,66 | 20,28 | 23,93 | 31,22 | 40,44 | 48,14 | 55,84 | 74,69 | 114,91 | 151,28 |
All rates shown in Euros. Zone 1: Austria, Germany Zone 2: Belgium, Croatia, Czechia, Denmark, Spain, Estonia, Finland, France, United Kingdom, Greece, Hungary, Italy, Iceland, Ireland, Luxembourg, Netherlands, Poland, Portugal, Romania, Sweden, Slovakia Zone 3: Switzerland, Jersey, Norway Zone 4: Canada, USA, USA FPO / APO Zone 5: Australia, New Zealand Zone 6: Japan