Skip to product information
FEATURES
Limited Edition

Only 900 pieces worldwide
Individually-numbered
With Certificate of Authenticity
1x Crucible Hilt

Bears insignia and the Mark of the Slayer
The hand guard is in closed position
Material: Hand-painted Polyresin
Argent energy not provided
Size

Length: 12 in (30.48 cm)
Width: 3.7 in (9.4 cm)
Height: 1.25 in (3.17 cm)
Weight: 567 grams
1x Base

Resembles the forge where the Slayer creates the blade
Material: Polyresin
Size

Length: 10 in (25.4 cm)
Width: 3.9 in (9.9 cm)
Height: 1.2 in (3.05 cm) 
NOT SUITABLE FOR CHILDREN UNDER 3 YEARS OF AGE.
Product color may differ from what is shown due to its hand-painted nature and monitor display variance.
LIMITED EDITION OF ONLY 900 WORLDWIDE
Wield the sword that forged the legend of the DOOM Slayer—or at least what's left of it after you broke the blade off in the head of the Icon of Sin. The Bethesda Gear Store is proud to present the DOOM Eternal Crucible Hilt Replica. It brings to life a superweapon that the game describes as "one of the most mysterious artifacts known to man".

Immensely powerful, a Crucible is capable of slaying most demons with a single blow. This one in particular belongs to the DOOM Slayer. It is depicted in its inactive state, just as it was when the player first recovers it in DOOM Eternal. During that part of the story, the Slayer finds the blade embedded in the chest of a massive Titan demon in Taras Nabad. This permanently neutralized the Titan and left the Slayer only the hilt with its cross guards folded shut.

Sculpted and painted in great detail, this 12-inch-long collectible has all the beautiful features of its in-game counterpart. Embossed on the pommel, shoulder, and cross guards are a number of symbols including the Mark of the Slayer.

When not in your hands, the DOOM Eternal Crucible Hilt Replica can rest on its base, which resembles the red-hot forge that the Slayer uses to create a new blade.

There are only 900 pieces of this limited-edition collectible, each with an individual number and a Certificate of Authenticity.
MORE DETAILS
DOOM Eternal Video Game Merchandise
Collectibles: Weapon Replica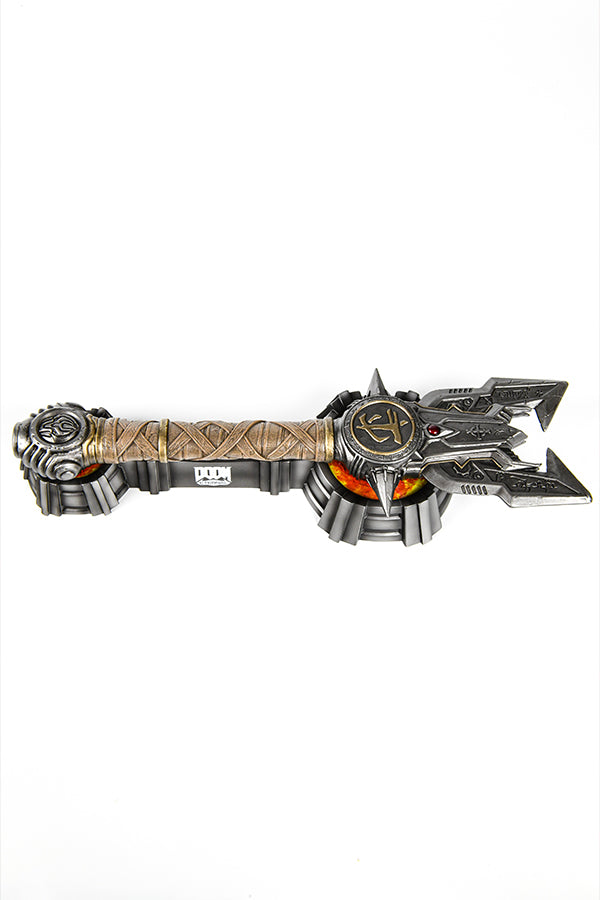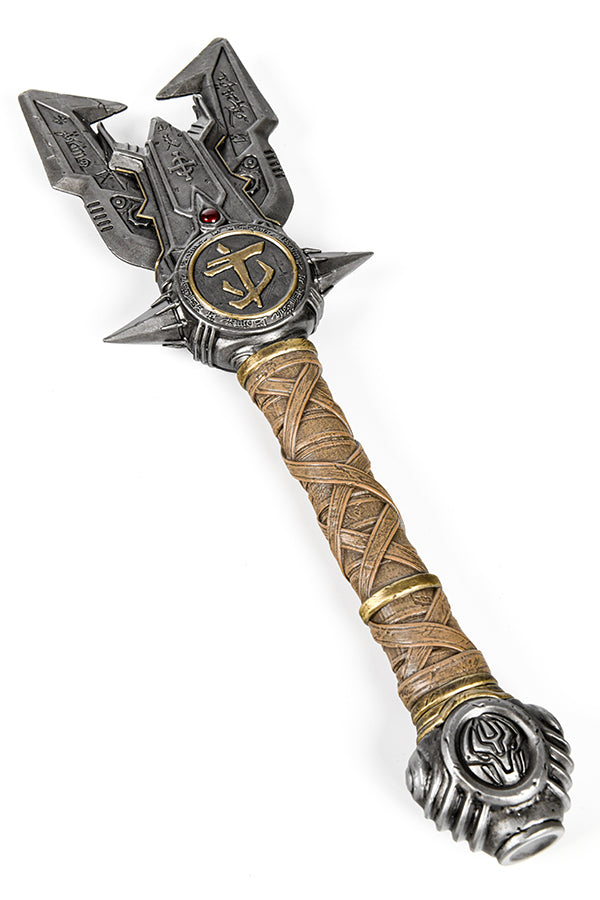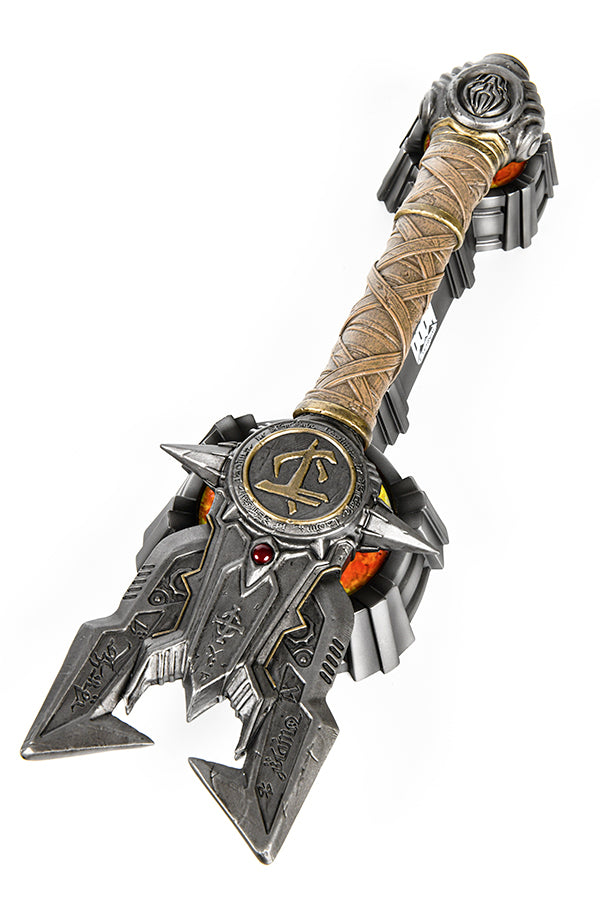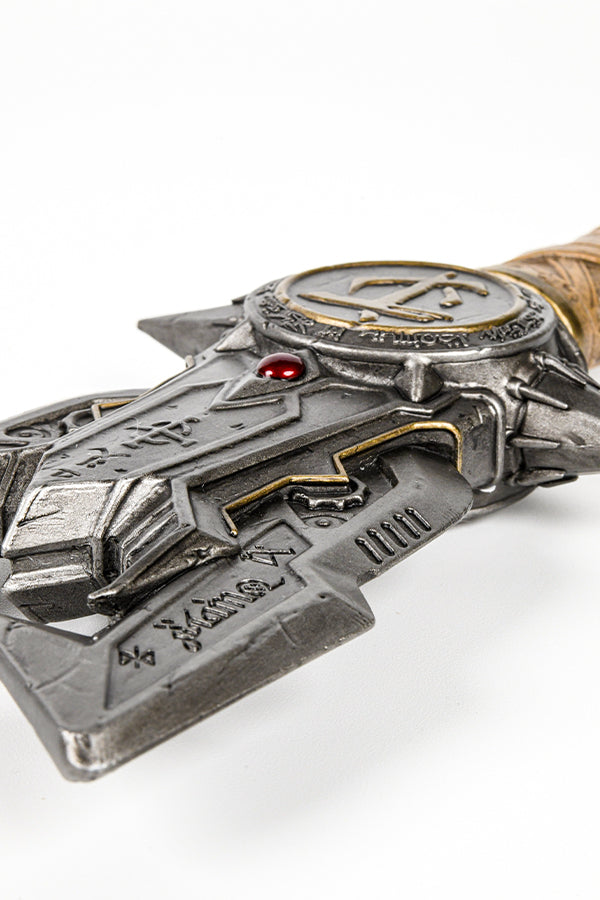 Shipping costs
| Zone | below 400 grams | 401-800 grams | 801-2000 grams | 2001 - 4000 grams | 4001 - 6000 grams | 6001 - 8000 grams | 8001 - 10,000 grams | 10,001 - 15,000 grams | 15,001 - 23,000 grams | 23,001+ grams |
| --- | --- | --- | --- | --- | --- | --- | --- | --- | --- | --- |
| 1 | 6,65 | 7,90 | 7,90 | 8,90 | 10,90 | 10,90 | 13,17 | 14,40 | 15,90 | 15,90 |
| 2 | 8,19 | 9,98 | 12,11 | 12,89 | 13,65 | 14,37 | 15,09 | 16,98 | 24,30 | 27,65 |
| 3 | 8,63 | 11,07 | 16,05 | 17,17 | 18,26 | 19,29 | 20,31 | 23,04 | 38,81 | 44,43 |
| 4 | 19,87 | 22,12 | 27,18 | 37,28 | 49,65 | 60,03 | 70,41 | 95,82 | 153,54 | 212,32 |
| 5 | 24,93 | 27,20 | 32,30 | 42,50 | 55,41 | 66,19 | 76,97 | 103,36 | 159,70 | 210,60 |
| 6 | 18,66 | 20,28 | 23,93 | 31,22 | 40,44 | 48,14 | 55,84 | 74,69 | 114,91 | 151,28 |
All rates shown in Euros. Zone 1: Austria, Germany Zone 2: Belgium, Croatia, Czechia, Denmark, Spain, Estonia, Finland, France, United Kingdom, Greece, Hungary, Italy, Iceland, Ireland, Luxembourg, Netherlands, Poland, Portugal, Romania, Sweden, Slovakia Zone 3: Switzerland, Jersey, Norway Zone 4: Canada, USA, USA FPO / APO Zone 5: Australia, New Zealand Zone 6: Japan