Skip to product information
FEATURES
Crucible Sword Letter Opener

Based on one of the DOOM Slayer's weapons in DOOM Eternal
Mark of the DOOM Slayer on hilt
Insignia on blade and sheath
Base with DOOM logo surrounded by protruding horns and 2 skulls
Antique silver finish
Materials

Letter Opener: Zinc Alloy (Metal)
Sheath and Base: Polyresin
Size

Sword Letter Opener: 6.7 in (17.02 cm) length
Base Excluding Sheath: A 2.8 in (7.11 cm) height, 2.5 in (6.35 cm) diameter
Total Height of Opener & Sheath: A 8 in (20.32 cm) height
Weight: 400 grams
Comes in a solid white gift box packed with EPA foam
Images are 3D renders. The video is from production samples. Your product may vary from the images shown. 
POLYRESIN BASE. ALL-METAL SWORD. PURE
ARGENT

ENERGY.

How can you make the ordinary task of opening letters feel like a power fantasy? Use your DOOM Crucible Letter Opener and find out!

Hellish horns rise from the base and surround the DOOM logo, above which lie two skulls. Night Sentinel insignia cover the Crucible blade, which acts as a sheath and a visual reminder of a major moment in the game. When you pull the hilt and unsheathe the letter opener, you leave the Crucible's Argent blade firmly planted on the base—the way you'd leave it embedded in Titans you want to put away for good.

This gorgeous desk accessory will give you plenty of reasons to feel excited about receiving letters in the mail: the satisfying sensation of cleanly cleaving the edge of an envelope, the weight in your hand as you wield an all-metal mini sword, and the joy of having a beautiful Argent weapon always ready for the next letter.

 
MORE DETAILS
DOOM Video Game Merchandise
Home & Office: Letter Opener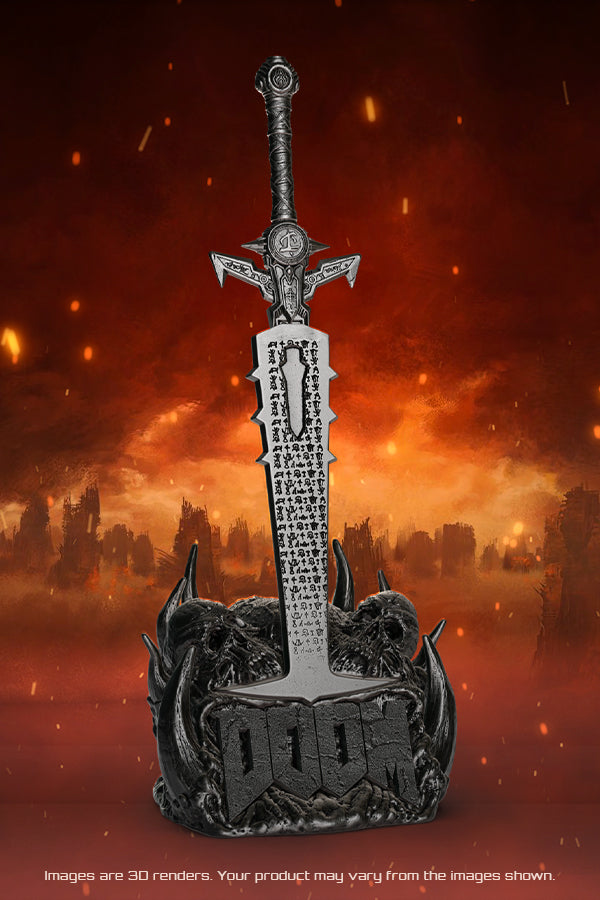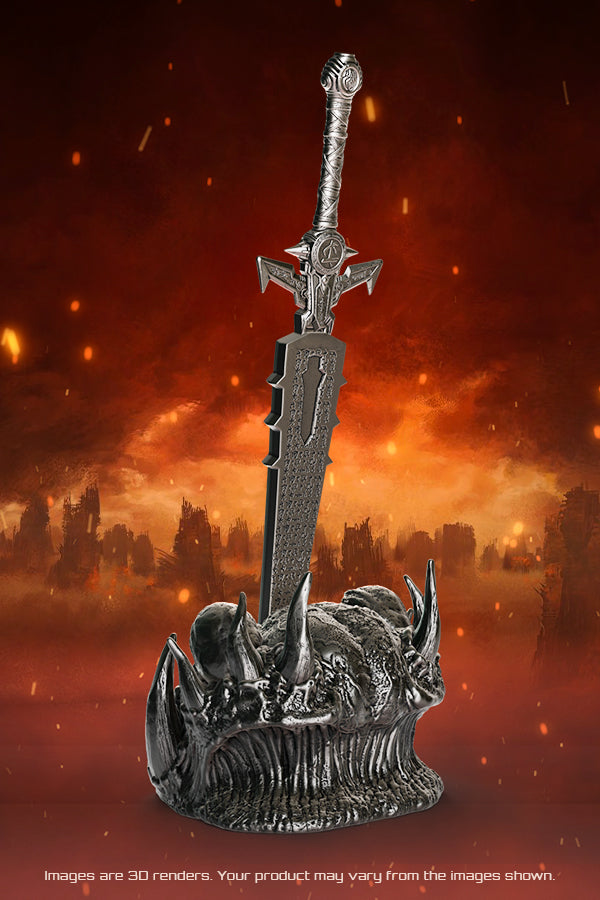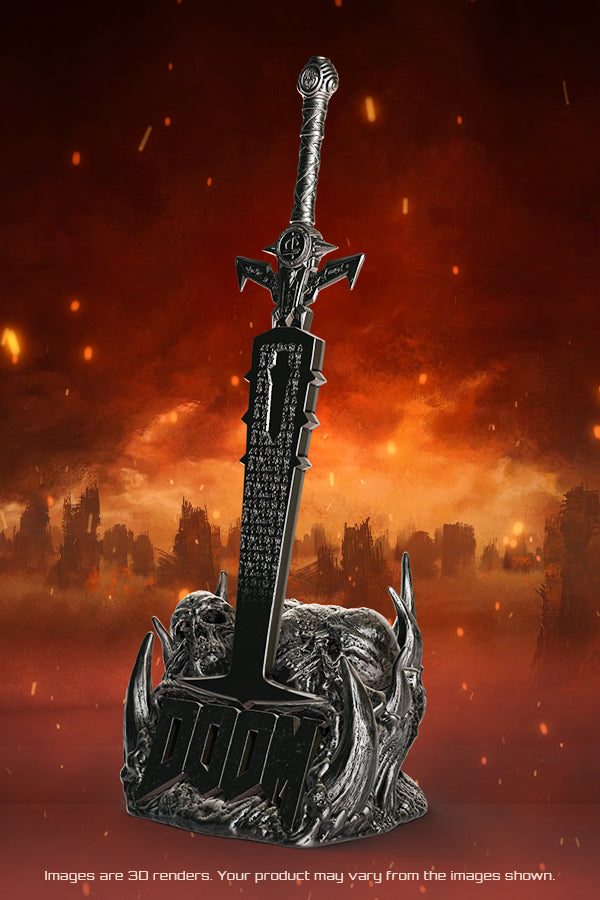 Shipping costs
| Zone | below 400 grams | 401-800 grams | 801-2000 grams | 2001 - 4000 grams | 4001 - 6000 grams | 6001 - 8000 grams | 8001 - 10,000 grams | 10,001 - 15,000 grams | 15,001 - 23,000 grams | 23,001+ grams |
| --- | --- | --- | --- | --- | --- | --- | --- | --- | --- | --- |
| 1 | 6,65 | 7,90 | 7,90 | 8,90 | 10,90 | 10,90 | 13,17 | 14,40 | 15,90 | 15,90 |
| 2 | 8,19 | 9,98 | 12,11 | 12,89 | 13,65 | 14,37 | 15,09 | 16,98 | 24,30 | 27,65 |
| 3 | 8,63 | 11,07 | 16,05 | 17,17 | 18,26 | 19,29 | 20,31 | 23,04 | 38,81 | 44,43 |
| 4 | 19,87 | 22,12 | 27,18 | 37,28 | 49,65 | 60,03 | 70,41 | 95,82 | 153,54 | 212,32 |
| 5 | 24,93 | 27,20 | 32,30 | 42,50 | 55,41 | 66,19 | 76,97 | 103,36 | 159,70 | 210,60 |
| 6 | 18,66 | 20,28 | 23,93 | 31,22 | 40,44 | 48,14 | 55,84 | 74,69 | 114,91 | 151,28 |
All rates shown in Euros. Zone 1: Austria, Germany Zone 2: Belgium, Croatia, Czechia, Denmark, Spain, Estonia, Finland, France, United Kingdom, Greece, Hungary, Italy, Iceland, Ireland, Luxembourg, Netherlands, Poland, Portugal, Romania, Sweden, Slovakia Zone 3: Switzerland, Jersey, Norway Zone 4: Canada, USA, USA FPO / APO Zone 5: Australia, New Zealand Zone 6: Japan