As featured in the game, the Dishonored Limited Edition Replica Empress Collectible Coin bears the image of Empress ​Emily Kaldwin, ruler of the Isles. Her profile is embossed on one side, while the emblem of the Four Nations is embossed on the other. The dual plating gives this hexagonal coin two colors: a nickel center, with antique gold surrounding it. 
INCLUDES:
Only 5,000 worldwide

 

Individually-numbered

 
Embossed on both sides

 

Head:

Profile of Empress Emily Kaldwin and the words, "Empress protect us"

 
Tail:

Emblem of the four isles and the words, "Four nations"

 
Material:

Zinc alloy with antique gold and antique nickel dual plating

 
Diameter:

38 mm (1.5 in)

 

Thickness:

3 mm (0.12 in)

 
Comes in a resealable packaging

 

Made in the UK

 
Made from recycled material

 

Fully-recyclable

 
Product colour may differ from what is shown due to monitor display variance.

 
Related Links 
Dishonored Limited Edition Replica Empress Collectible Coin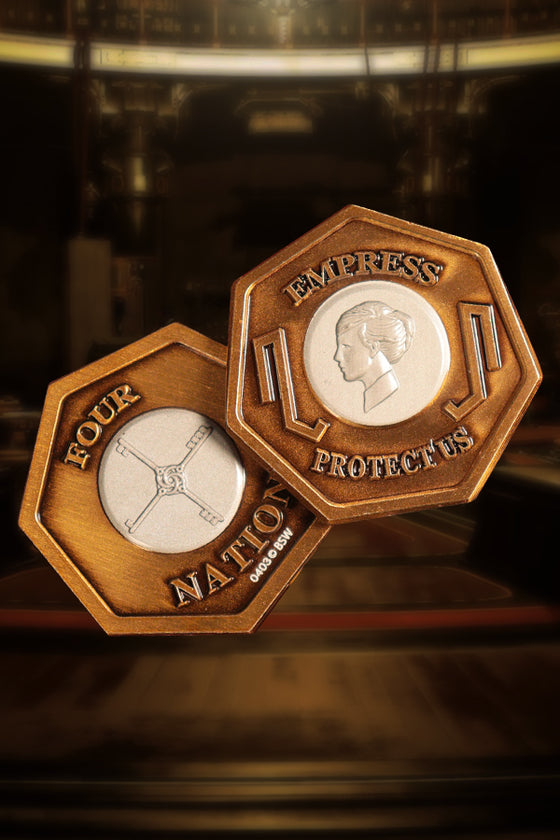 Dishonored Limited Edition Replica Empress Collectible Coin
Added to cart
Subtotal
Go to cart
Shipping costs
| Zone | below 400 grams | 401-800 grams | 801-2000 grams | 2001 - 4000 grams | 4001 - 6000 grams | 6001 - 8000 grams | 8001 - 10,000 grams | 10,001 - 15,000 grams | 15,001 - 23,000 grams | 23,001+ grams |
| --- | --- | --- | --- | --- | --- | --- | --- | --- | --- | --- |
| 1 | 6,65 | 7,90 | 7,90 | 8,90 | 10,90 | 10,90 | 13,17 | 14,40 | 15,90 | 15,90 |
| 2 | 8,19 | 9,98 | 12,11 | 12,89 | 13,65 | 14,37 | 15,09 | 16,98 | 24,30 | 27,65 |
| 3 | 8,63 | 11,07 | 16,05 | 17,17 | 18,26 | 19,29 | 20,31 | 23,04 | 38,81 | 44,43 |
| 4 | 19,87 | 22,12 | 27,18 | 37,28 | 49,65 | 60,03 | 70,41 | 95,82 | 153,54 | 212,32 |
| 5 | 24,93 | 27,20 | 32,30 | 42,50 | 55,41 | 66,19 | 76,97 | 103,36 | 159,70 | 210,60 |
| 6 | 18,66 | 20,28 | 23,93 | 31,22 | 40,44 | 48,14 | 55,84 | 74,69 | 114,91 | 151,28 |
All rates shown in Euros. Zone 1: Austria, Germany Zone 2: Belgium, Croatia, Czechia, Denmark, Spain, Estonia, Finland, France, United Kingdom, Greece, Hungary, Italy, Iceland, Ireland, Luxembourg, Netherlands, Poland, Portugal, Romania, Sweden, Slovakia Zone 3: Switzerland, Jersey, Norway Zone 4: Canada, USA, USA FPO / APO Zone 5: Australia, New Zealand Zone 6: Japan